Nick Brown
Marine & Offshore Director, Lloyd's Register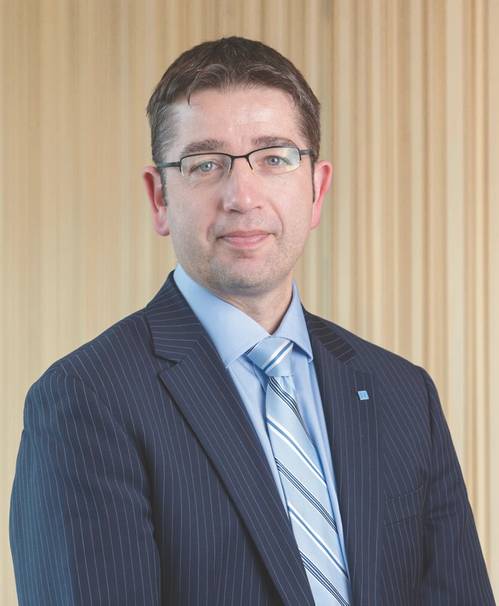 By Greg Trauthwein
Nick Brown joined Lloyd's Register in 1996. He worked as a ship surveyor in Bahrain, Dubai, Finland and Germany and has extensive experience of ship repair and conversion projects. In 2004 he returned to London to work on the development of LR's award winning "Hull Integrity" service - launched at Posidonia in 2006.
During 2005 Nick led LR's global tanker business at a time when IACS' Common Structural Rules (CSR) for Tankers were being finalized. Following the adoption of the CSRs in 2006, he moved to China, initially in a business development role as the shipbuilding market took off and new ship owners entered the industry. Subsequently, he was promoted to Area General Manager and Marine Manager for Greater China.
In October 2013, after seven years leading LR's activities in China, Nick was appointed Director for Business Development and Innovation - based at LR's Global Technology Center (GTC) in Southampton. In July 2014, with LR's Marine business continuing to grow, he was appointed Marine Chief Operating Officer. In January 2016 he was appointed Marine Director, responsible for LR's entire marine and energy compliance businesses.
Nick's focus is on leading LR to meet the technical and commercial challenges facing the marine industry, providing the support, services and innovation needed to meet ever increasing safety, environmental and efficiency goals. 
He is a graduate of Nottingham University, a Chartered Mechanical Engineer and a Member of the Institute of Mechanical Engineers and the Institute of Marine Engineering, Science and Technology.
Here, Brown shares insights on the speed and direction of technology change in the sector.
Many sectors in the global maritime market are challenged today, to put it mildly. How, specifically, do these market cycles impact LR?
The collapse in dry cargo freight rates, the collapse in the price of oil and in demand for offshore assets, weakness in the containership markets and other sectors has, as we well know, reduced demand for new ships and floating assets. The forward orderbook in the large Asian yards has declined dramatically – especially in Korea. These related market factors affect us considerably but cyclicality is in the nature of the shipping business and we are adjusting accordingly – moving to help our clients deal with their current cost and production challenges and managing our cost base. This down-cycle is proving particularly deep – and broad – and many are struggling to see the light at the end of the tunnel. As well, I think, the evolution of information technology and technical capabilities may change society and economic life in a manner that could profoundly change shipping. This cyclical downturn is an important opportunity for us to be as ready as we can for what's coming next.
OIL … the inescapable conversation! How has the lingering low price for oil tangibly impacted LR?
It has affected our energy business quite considerably and the impact on some of our shipbuilding clients who moved heavily into offshore has been dramatic. Projects have been stopped and put on hold – and we are all suffering in this respect. I don't want to try and predict the future for oil prices but I do feel that the emphasis is now on gas for future fossil fuel production and marketing and we are well placed to support all across the gas value chain in developing this cleaner fuel source. And at the same time we have been diversifying our markets and our capabilities, so the opportunities that we see for clean energy beyond fossil fuels are creating work for us. We expect this to grow. And, for example, in the U.S. we expect to see the shale gas story to keep evolving and supporting expanded gas shipments out of U.S. ports – as the class leader in gas ship classification we are playing a large role in supporting clean energy exports from North America, in addition to our business areas supporting the upstream energy sectors. 
While much talk revolves around market gloom, in scanning the world market today, by vessel niche or geographic region, where do you see pockets of opportunity and growth?
Well, I don't want to give too much away! But we are trying to play to our strengths. Growth in demand for high tech ships like cruise ships, survey vessels and also demand from navies for classification services, as well as large yachts, are all areas of growth for us. We are the class market leaders in LNG ships and passenger ships and, in general, are strong in areas where risk is greatest – due to the nature of cargoes like gas and people, and the greater value and technology development of gas ships and cruise ships requires higher levels of technical capability and assurance. 
We also see the United States as a big opportunity – a market where we can continue to provide support for all ship owners, operators and facilities, like ports expanding into LNG related activities. But, of course, we will be looking to build on our gas ship and passenger ship leadership. Traditionally, Canada has been a very important area for us. That will continue but we hope to continue expanding in the United States as well as in Central and South America. We have reorganized our management to support the Americas and we are now even better placed to provide the support that the market needs.
The role of class continues to evolve. As shipowners face myriad challenges, from vessel emissions to cyber security. From your seat, what are the top two or three 'burning issues,' and how is class evolving to meet new demands?
The 'burning platforms' are efficiency and the environment – helping harness technology for a more efficient and cleaner industry. We have had to respond to regulation but now we need to try and get out in front of the regulators and be proactive in shaping the future of shipping. Our role is to help clients and stakeholders make the best commercial decisions based on the best technical insight – and then support them through the newbuilding and operational lifecycle. It's all about how we use technology to maintain or enhance safety levels while driving down cost and increasing performance. Safer operations are a long term cost saving. That technology is rapidly changing our lives is a truism – it's obvious but that doesn't make decision making any easier. We can't predict the future – no one can – but we can help clients make the best decisions and help them sleep more soundly at night, because we have their backs. And a major evolution for class is that where, once, we were focused on protecting ships from the environment we now have to, and want to, help do more to support environmental protection. Safety of shipping is still critical but we need to find ways to reduce shipping's environmental impact. The use of gas for ship propulsion, new fuels, hybrid technology and energy efficiency measures are all important areas of work and we are very active and in these areas, leading the way for a cleaner, higher performing industry. 
Projects like our gas turbine initiatives with GE Marine and shipyards to provide new pathways for proven technology are good examples of how we can work with technology providers to create safe, efficient solutions.
We find ourselves talking more about "the future of class." From your perspective, what are the two or three technologies or capabilities that will have the most dramatic impact on the way in which class conducts its business in the coming decade. Please be specific.
We have been doing a lot of work on the future for shipping. For example our Global Marine Trends 2030 series of reports detailing our strategic research has provided our stakeholders with insight into the future for maritime trade, future fuel trends. Most recently, Global Marine Technology Trends 2030 looked at a broad range of technologies that will drive change in shipping. But if I have to pick three then it is cyber, or, digital, sensors and automation. They are all connected. But the world will get safer and operations will be more efficient and costs managed more effectively, only if there is a capable, independent organization to provide the necessary levels of risk assurance. That's our role – we are here to help the world move from where we are to where we all want to be. We can see how drones can change how we work and that's an area where we are heavily involved having issued guidance and conducting trials.
Big DatA & Autonomous Ships: For our readers can you please provide shape and scope to the LR position on unmanned ships. To put it frankly, in your opinion will we see, in the coming generation, unmanned ships sailing the high seas? 
We think we will see various levels of automation – dependent on type of asset, type of operation and operating environment. Again, our job is to provide the confidence and assurance that automation can be safe and effective.
Overall, how is LR investing for its future?
We are investing everything in our future while making sure we can handle the challenges of today, supporting clients with their daily survey requirements, for example. Concrete examples of the investments we have made include our Global Technology Centers (GTCs) in Southampton and Singapore as well as our Applied Technology Group in Halifax, Canada. This approach has redefined the role and scope of class and we see that our competitors are now following us. Our approach provides the right environment and access to academic and research capability that is needed. We have found ourselves the class market leaders in hybrid technology and we achieved that position through a combination of clear direction, our experienced technology leaders, investment in new talent and – importantly – working with the chemistry expertise at the University of Southampton across the campus from our new GTC. 
This investment in technology and capability will carry on as we continue to make sense of the future for the marine and offshore sectors, and the requirement to cyber enable assets and operations, etc.
(As published in the August 2016 edition of
Maritime Reporter & Engineering News
)