TMPR Expands Refrigeration Line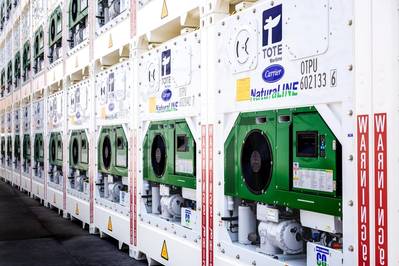 TOTE Maritime Puerto Rico (TMPR) is enhancing its fleet with 220 containers chilled by the industry's only natural refrigerant-based system, the NaturaLINE unit from Carrier Transicold.
TMPR is the first shipping line to place a sizable quantity of NaturaLINE units into service on U.S. domestic trade routes. NaturaLINE units use carbon dioxide (CO2), a refrigerant with the lowest global warming potential (GWP) among all refrigerants currently used in container systems. Carrier Transicold is a part of Carrier, a leading global provider of innovative heating, ventilating and air conditioning (HVAC), refrigeration, fire, security and building automation technologies.
TMPR's new refrigerated containers – a mix of 40-foot and 45-foot high-cube models – are being acquired via lease from SeaCube Containers LLC. NaturaLINE units use CO2 refrigerant, also known as R-744, which has an ultra-low GWP of 1, in comparison to GWPs that range from 600 to nearly 4,000 for refrigerants used in other container systems. R-744 is also non-ozone depleting, widely available, relatively inexpensive and classified as A1 for low-toxicity and no flame propagation.
SeaCube Containers, one of the world's largest purchasers and lessors of refrigerated containers, has been a proponent of the technologically advanced and innovative NaturaLINE unit as a way to help its clients reduce their carbon footprints.