Tightening CA Environmental Regs Could Impact West Coast Supply Chains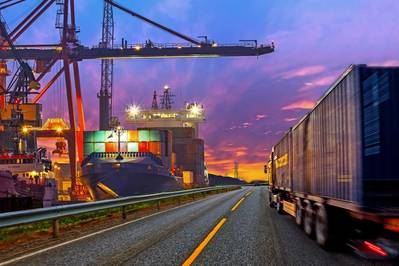 In a similar fashion to Gulf coast offshore energy producers who, in some instances, must document and count the environmental impact of their third party standby boats, offshore service vessels and other assets, the ports of Long Beach and Los Angeles could soon be burdened with yet another layer of environmental rules.
In Southern California, beneficial cargo owners (BCOs) are bracing for yet another set of regulations; this time as a function of cargo transported to and from warehouses and even off-site intermodal rail yards.
The 2006 Los Angeles-Long Beach Clean Air Action Plan (CAAP) and clean-truck program has already yielded remarkable results. In fact, and over the course of the last ten years, the two ports have cut diesel emissions by 84%, Sulfur Oxides by 97% and Nitrogen Oxides by almost 50%. That effort continues today. The fear that tighter regulations here – but not adopted elsewhere – would reduce cargo throughput in California hasn't yet materialized. Nevertheless, some market share is being eroded, in part as a function of a more efficient and expanded Panama Canal, to the East and Gulf Coasts.
Early Adoption, Mixed Results
Environmental regulations pushed by California as 'early adopters' are often adopted in other regions of the country. Sometimes, with good cause, they are not. Many times, the early rules in California prove to be onerous, poorly thought out and potentially disastrous. Take California's early action in the industry's move to distillates from heavy fuel oils on board oceangoing tonnage, for example.

Long before so-called Environmental Control Areas (ECA) were vogue, the Golden State required ships to use distillate fuel within just 24 miles of the coastline. As with many statutes created to improve life at one end of the spectrum, the requirements also came with the usual unintended consequences. A well-documented increase in casualties involving Loss of Propulsion (LOP) dogged the policy. The myriad reasons for this trend, to one extent or another, all centered on the switching from heavy fuel oil (HFO) to distillates as the vessels enter the local 'ECA.'

California's Loss of Propulsion (LOP) incidents averaged 23 incidents per year on HFO prior to 2009. Following the enactment of regulations requiring distillate fuel use there, that number jumped almost 200 percent. A lot further down the learning curve now, the problems have slowly been addressed, but early on, California was extremely lucky that cleaner air didn't translate into polluted waters.

Separately, California's progressive efforts to eradicate invasive species from local waters initially called for equipment that could reduce invasive species to a level 1000X more stringent than the IMO's benchmark. The equipment to measure that level of efficacy doesn't even exist. But, while this was ongoing, California dug in its heels and contributed in no small part to the gridlock that has delayed implementation of global regulations to get the job done. This was one of those times when folks said, "If we build it (the rule), then the technology to solve it, will come." This time, it did not.

Locally, the South Coast Air Quality Management District (AQMD) has recently okayed the process to begin developing so-called indirect source rules (ISR). In a nutshell, this involves clean-air regulations for freight movements that might emanate or terminate at local ports, but are not directly controlled by the ports. Less clear is when the rules will come, but it appears that it is a foregone conclusion that they will.

Local stakeholders, who now may be held hostage to the environmental footprint of trucking firms that only do a fraction of their business within the port, are worried. Already saddled with the local directive which calls for achieving 100% zero-emissions for port cargo handling equipment by 2030, the new environmental measures could represent a dangerous tipping point. The Pacific Merchant Shipping Association (PMSA) puts the cost of achieving the "zero emissions" goal at about $16 billion locally, not including infrastructure costs outside the marine terminal gates. The cost of environmental ISR mandates hasn't yet been calculated.

In just the past few years, the tenants, customers, and vessel operators in the Ports of Long Beach and Los Angeles have reduced emissions faster than any other industrial sector. The regulatory machine would now like that progress to extend outside the gates. The new proposals surrounding ISR's won't come without a cost to the supply chain. In the meantime, it is true that California is famous for exporting its early adoption of environmental progress and compliance to other markets. This one might also send some commerce, as well.

• California • energy producers • Gulf Coast