SC Ports Expands Transload Facility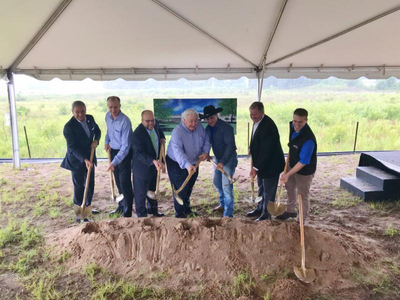 South Carolina Ports Authority (SCPA) officials celebrated the expansion of the Frontier Logistics local operations, with the groundbreaking of an approximately 550,000 square-foot warehousing facility, which will support the handling of plastic and resin exports from the Port of Charleston.

"Frontier plays an integral role in the handling of SCPA's plastics and resin business," said Jim Newsome, SCPA president and CEO. "Charleston is the emerging pivot point for both export and import U.S. resin, and the Frontier Logistics expansion is a key component of the Port's planned above-market volume growth."
With the Ports synthetic resin exports growing by 55 percent since 2011, demand for facilities has increased. Frontier's groundbreaking on 26 acres at the former Navy base will be a significant advantage for continued growth.
Local entities and groups involved in the collective effort to make this facility a reality include the SCPA, Palmetto Railways, the City of North Charleston and community groups that include the Chicora-Cherokee Neighborhood Association; the South Carolina non-profit corporation Metanoia; the Reynolds Avenue Area Merchants Association; and the Lowcountry Alliance for Model Communities.
The new site will be rail-served by Palmetto Railways, which will connect it to Norfolk Southern and CSX routes.