Port Chief Martínez says "Large-scale infrastructure is the key to maintaining an international presence"
The President of the Port Authority of Valencia, Aurelio Martínez, has indicated that "the large infrastructures are the key to maintaining a presence abroad and to face the forecasts that indicate that the growth of the commercial flows of goods is lower than those experienced in previous periods as reflected in the fall of the elasticity of trade to income and in a reduction of the coefficient of external opening. We need to prepare for medium- and long-term trends in the development of international trade and its fluctuations.
"To do this, regardless of the scenario, and to face these trends, in addition to strategic infrastructures, we must bet on multimodality and large operational hubs, promote means such as railways, motorways of the sea, respect for the environment or digitalization and automation of processes. These are lines on which we have been working resolutely for some time in Valenciaport to ensure competitiveness and economic development," said Martínez.
The president of the PAV participated in the webinar "Reflections of a Maritime Autumn: Future of Maritime Cargo in LATAM and Europe" organized by the Federation of National Associations of Cargo Agents and International Logistics Operators of Latin America and the Caribbean (ALACAT) and the Spanish Federation of Freight Forwarders (FETEIA). During his speech, Aurelio Martinez has made a review of the major crises in international trade and maritime traffic from which he notes that "all are different, have predicted the end of the world but we have left them and have accelerated some of the trends that were already present".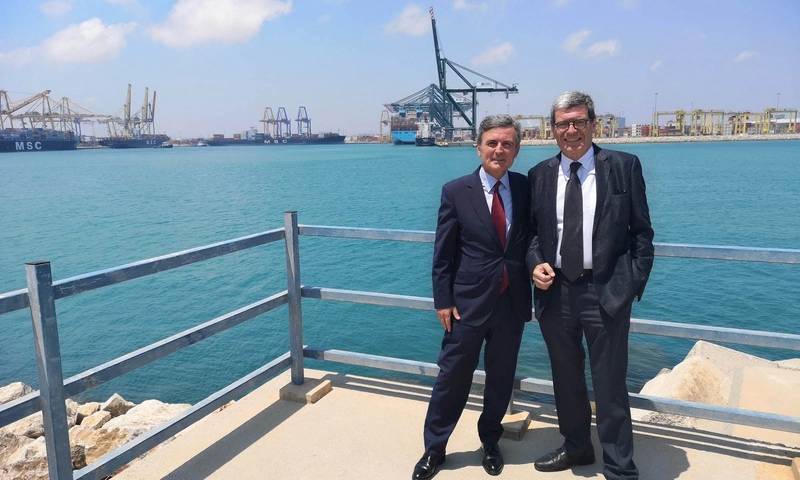 Aurelio Martinez (right). Photo courtesy Port Authority of ValenciaEconomic and structural changes

Concerning to the current situation, the president of the PAV stressed that "the fall in trade flows is due to temporary causes, such as the fall in the prices of raw materials, the exhaustion of monetary policy or the lack of action by public spending on investment. But also, structural due to technological and value chain changes that may end up modifying traditional trade flows, and political and institutional changes that are driving a new protectionism and economic nationalism".

Along these lines, he cited some of the structural elements that are affecting international trade, such as ageing, high indebtedness, low investment or the risk of deflation in certain developed countries, in addition to stagnating wages, worsening income distribution, the need for fiscal reform, increased consumption of services as opposed to intensive goods, dispersion of supply or business concentration. "The result of all these changes will be reflected in the fact that trade flows will grow at lower rates. In addition, we must add the new protectionism, which has been aggravated by the impact of the health crisis on activity, and which is here to stay".

Faced with these changes, the president of the PAV has highlighted the positive elements that play in favour of international trade such as "the growth of the world population, the pressure to improve living standards, the growing urbanisation and migratory movements that demand products or the incorporation of other areas of the world into development".

In this sense, Martinez added that "growth forecasts on a global scale indicate that the areas with the greatest development in the coming decades will be Asia, Africa and to a lesser extent Latin America, so it is foreseeable that trade flows will change routes.

During the presentation, Aurelio Martinez recalled the strengths of maritime transport which is the "most efficient means whatever the variables used as energy expenditure per MT and km, volume, environmental sustainability or safety, among others. An efficiency that is based on technological progress and a constant reduction of unit costs, which makes it the most competitive transport sector".



• Africa • Caribbean • energy