Hydrogen Fuel Cell ReachStacker Shipped to the Port of Valencia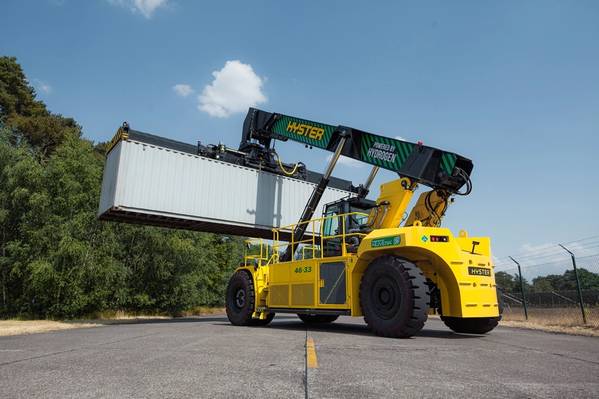 Container handling solutions provider Hyster Company has developed and shipped a hydrogen fuel cell ReachStacker for a pilot at the Port of Valencia in Spain.
The Hyster ReachStacker is a zero-emission solution that uses a Nuvera Fuel Cell Engine to convert hydrogen into electricity. The hydrogen is stored on board in high-pressure tanks and can be refilled in 10-15 minutes. The onboard hydrogen fuel cell charges the batteries, which power the electric motors and hydraulic systems enabling the ReachStacker to lift laden containers with similar performance to a diesel-powered alternative.
This application is exploring advantages of the hydrogen fuel cell ReachStacker compared to conventional diesel-powered machines. It offers reduced greenhouse gas emissions, noise pollution and operating costs through the elimination of a diesel engine, transmission and other mechanically-driven components.
The Hyster ReachStacker will be tested and validated in live operation at the MSC terminal in Valencia, one of the largest container terminals in Europe. The H2Ports project, funded by the Fuel Cells and Hydrogen Joint Undertaking (FCH-JU) and coordinated by the Fundación Valenciaport, involves several partners from the port community, industry and academia.