William Doyle
Incoming Executive Director, Maryland Port Administration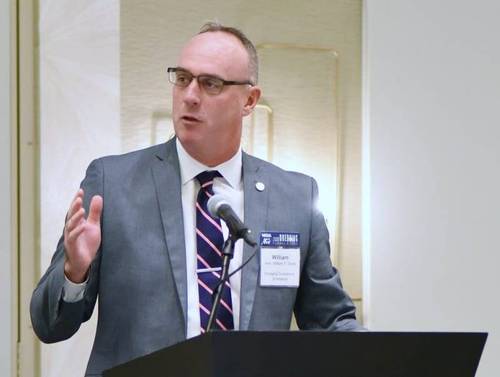 William P. Doyle is the incoming Executive Director of the Maryland Port Administration. A former U.S. Federal Maritime Commissioner, Doyle currently serves as CEO & Executive Director of the Dredging Contractors of America – and the group's member companies have recently made a series of announcements to build new dredges of several types and sizes. We caught up with the incoming Port of Baltimore head to discuss his initial goals for the new role.
How do you feel about being selected the head of MPA and Executive Director of the Port of Baltimore?
I feel terrific. I want to thank the search committee for their professionalism throughout the process. The interview process took place smack in the middle of the COVID-19 pandemic. And, I certainly want to thank Governor Larry Hogan and Secretary of Transportation Greg Slater. They've put their confidence in me. I look forward to working very hard with them and to doing a great job for the port and Maryland.
What do you intend to focus on over the next 6 to 12 months?My intention is to seek a full assessment from staff and stakeholders on all port business and projects, including containers, ro-ros (both high and heavy and autos), forest products and cruise, which are handled by our state-owned public marine terminals, as well as coal, sugar, salt and other bulk cargos handled at our private marine terminals. One of the reasons that the Port of Baltimore so great is the relationship between our public and private terminals. We're not competing against each other. We are all one Port of Baltimore and that's not the case with some other ports. I'm looking forward to meeting and getting to know our private terminal partners.
We're also still dealing with the COVID-19 pandemic. Our priority is safety first; this includes not just social distancing but social responsibility. Social responsibility lies with the individual, meaning be careful at work, stay home if you are sick and respect new distancing guidelines. It also means to be careful during off-duty hours so that workers do not contaminate their workplace when they return. I think the ILA did a great job and got the message out early on social responsibility, distancing and proper hygiene. The Port of Baltimore has an outstanding ILA labor force. The ILA leadership and longshoreman in Baltimore are carrying out their duties and responsibilities with the highest level of care.
What have you learned during your time with the Federal Maritime Commission (FMC) that can be useful in the role of Executive Director for the Port of Baltimore?
At the FMC, I was exposed to every facet of the ocean transportation and logistics chain. Those years at the FMC were busy and transformative. The ocean carriers went through two major cycles of ocean carrier alliances, the Hanjin bankruptcy, chassis were decoupled from the ocean carriers per se, and the expanded Panama Canal opened. There were also periods of mass port congestion. I interacted directly with many of the owners and c-level executives in the supply chain. We had open, frank and direct discussions, and from there we formed solid working relationships. We always found solutions together. I want to bring that same approach to my role at the Port of Baltimore. It is critical to have open communication with all the various entities in the supply chain. Those good relationships are vital to the success at any port.
Baltimore is a big and diverse port with many modes of transportation. How will you approach the stakeholders and new opportunities?
Baltimore is the center of the universe with port, rail, logistics, warehousing, import and export. First, we'll need to keep the Howard Street tunnel project moving forward. That is a real game-changer. Baltimore must be able to double stack rail cars in and out of the port. CSX is on board, and they're a great partner. More rails cars mean more cargo, and that means more business and jobs.
We're also very happy to now have Norfolk Southern on-dock at our Seagirt container terminal. I'm going to work closely with our partner at Seagirt, Ports America Chesapeake. I'm a big proponent of public-private partnerships and I know how valued they are. We need to build the loop channel at Seagirt Marine Terminal. The channel will allow for a turning basin for the big ships and an additional 50-foot container berth that is on the way. Larger and more frequent containerships mean more cargo, and again, that means more business and jobs. The MPA is working with the US Army Corps on the loop channel feasibility study. We also have plans for a container depot to temporarily store overflow cargo and empties. This needs to get in motion.
How do you plan to work with stakeholders to sell the benefits of local warehousing options such as Trade Point Atlantic in the old Sparrow Point Shipyard?
We're going to continue to attract new business. Like I said earlier, we are one Port of Baltimore. It doesn't matter if the cargo goes to our public terminals or our private ones, as long as it comes here. My intention is to partner with Tradepoint Atlantic. What a terrific success story they are – a new dry dock, BAE's the Titan, Orsted U.S. Offshore Wind, Amazon, Under Armour, Home Depot, Floor N Décor and Volkswagen. The list goes on. Tradepoint has transformed the historic Sparrows Point shipyard and turned it into a 21st century huge economic driver. We want to help them succeed as much as possible.
The Port of Baltimore is surrounded by a growing amount of warehousing and distribution centers. You see them right along the highways in Maryland and right up through central Pennsylvania and into New Jersey and New York. I intend to form a shippers (BCO) and warehousing roundtable where we can regularly communicate, discuss issues and improve business practices that would benefit everyone.