Seaflex Bouyancy Shows Real Utility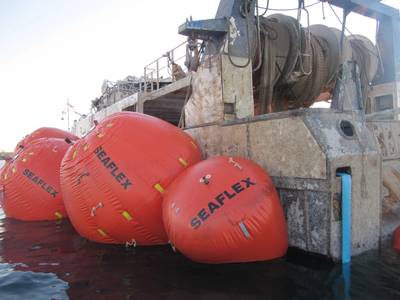 Unique Maritime Group's marine buoyancy solutions help stricken vessel and world's largest windfarm; highlights the diverse uses for Seaflex buoyancy systems.
Unique Maritime Group, one of the world's leading integrated turnkey subsea and offshore solution providers, today announced two key projects, involving buoyancy systems provided by Seaflex Ltd.

World's Largest Offshore Windfarm

The London Array is an offshore wind farm under construction in the outer Thames Estuary in the United Kingdom. With 1,000 megawatt (MW) capacity, it is expected to become the world's largest offshore wind farm.
Seaflex products played a key role in three critical phases of the windfarm construction
Assistance with the float out of heavy gauge steel monopiles, on top of which each wind turbine is mounted
The installation of the export power cable to the onshore power management station in Kent
The final connection of the power cable to each wind turbine
Seaflex were contacted by Ballast Nedam B.V. with the request to supply bespoke buoyancy modules to be fitted inside mono piles prior to tow out to the site off the Kent coast from Vlissingen in Holland. Each monopile was of tubular steel construction at 4.5m diameter and up to 65m long. With a wall thickness of 75mm – 80mm each monopile weighed in the region of 400t.


Seaflex were contracted to manufacture 6 x 88t Inflatable Buoyancy Units with a diameter of 4.5m and 6m in length to suit a standard pile. Each buoyancy unit was double skinned for added protection against the inner wall of the monopiles. It was decided two sets would be needed to enable one set to be in use while the other was on it's return trip to Vlissingen, keeping the project on schedule.
The project was a complete success with all piles installed without incident.

Visser and Smit contacted Seaflex for the remaining two phases, to connect the export power cable from the cable lay vessel Spirit to the power management station ashore, and to patch in each wind turbine to the offshore hubs – or subsea junction boxes in layman's terms.

The main export power cable has a diameter of 208mm and weighs over 80kg/m in the water. Seaflex supplied over 3km of SeaSerpent cable buoyancy system in 50m and 100m lengths, each section delivered on a steel deployment reel. SeaSerpent was the perfect product for this installation due to the extremely shallow water (0m to 6m over 3km) and because due to tidal variations, the cable route dried out for 8 hours in every 12. SeaSerpent allows for a high rate of lay meaning the 4 operational hours were used to maximum efficiency. All Visser & Smit deck personnel attended SeaSerpent training at Seaflex premises with Seaflex also supplying two field engineers ensuring the shore pull went smoothly.


At the offshore end of the power cable a hub was installed in the midst of the turbine array, with cable spurs running to each turbine. As the spurs approach each turbine, they cable lay vessel performs a zig zag course, laying the cable in what is know as a lazy 'S' over the last 500m or so. After detailed engineering analysis with Visser & Smit, Seaflex were asked to provide 3 x 120m lengths of 33kg/m SeaSerpent and 25 x 250kg Air Lift Bags, not to lift the cable, but to lighten it in preparation for the cable end to be winch up inside each turbine's J-Tube. During the winching operation, Hughes Sub Surface Engineering divers were employed to peel off the SeaSerpent and remove the 250kg Air Lift Bags at the J-Tube's bell mouth.

Graham Brading MD Seaflex Ltd comments - "To be involved at so many levels with this prestigious windfarm project was a great privilege for Seaflex, and demonstrates the versatility of our products which historically have been associated with the salvage and oil & gas industries, but now more so with the renewable energy sector"


Vessel Floatation


During a power outage, The Jean Ricciardi, a 25 meter, 250gt vessel ran aground and damaged her hull reulting in her sinking close to Sete harbour, in France. Due to the water depth and the close proximity to the harbour entrance a rapid solution was required. The local diving & salvage contractor, Prodive of Monaco, contacted Seaflex to supply the necessary equipment - 12 x 20t ALB (Air Lift Bags). The bags were packed and despatched from stock the same day from Seaflex head quarters on the Isle of Wight and arrived on site two days later.

The salvage was completed by the contractor within a week of the call to Seaflex and the Jean Ricciardi has now been safely removed from the water to be broken up for scrap. (A video of the salvage is available here http://www.youtube.com/watch?v=p_c-oBKhysg&feature=colike)

Ray Hughes, Managing Director, Unique System (UK) Ltd., commented on both projects saying "These are perfect examples in the diverse use of buoyancy systems and the flexibility UMG is able to offer its customers. With the Jean Ricciardi we were able to offer a rapid response solution and with the London Array we were able to provide bespoke products to provide a solution for a niche requirement."

Adding to this, Harry Gandhi, Group CEO UMG said "We are delighted with these contracts. By integrating Seaflex into our global network of operations, we are now able to offer Seaflex solutions to a much larger customer base. We anticipate great growth in the buoyancy industry and are permanently looking to strengthen our offering in this arena with the goal of being the market leader."

The Seaflex buoyancy range includes:

• Air Lift Bags (ALB's)
• Inflatable Buoyancy Units (IBU's)
• Mono Buoyancy Units (MBU's)
• SeaSerpent Cable Buoyancy System (SS)
• Kraken Pipeline Buoyancy System (KS)
• WaterLoad Bags (WLB's)
• Lifeboat Testing Bags (LBTB)
• Load Cells (LC)


• Unique Maritime Group • United Kingdom • Thames Estuary