HGK Shipping ordered from De Gerlien van Tiem shipyard in Druten, Netherlands, a new, low-emission dry goods vessel, a vessel to be specially tailored to the requirements of Salzgitter Flachstahl.
Equipped with a diesel-electric drive system and solar panels and designed to be "future-fuel-ready", the new vessel is outfitted to make a contribution to the sustainability ambitions of HGK Shipping and Salzgitter AG. Once it goes into service, it will replace one of the three vessels from the existing fleet, that are currently being used, in line with the recently signed time charter agreement.
The design of the dry goods vessel for steel supply chains has been drawn up and finalized by the team working at the HGK Shipping Design Center. Powered with a diesel-electric drive system, the vessel has a design that enables it to be retrofitted to handle forward-looking drive systems and types of fuel.
This includes the option of installing a void space in the midships section of the vessel in future. Solar panels will also be installed on the lids of the hatches to obtain electrical energy, energy integrated into the onboard power grid and also, for the first time, be fed into the propulsion system.
The goods vessel explicitly caters for the needs of Salzgitter AG in terms of its dimensions, design and the shape of the cargo space. The vessel, which can navigate canals, is 86 x 9.5m with a payload capacity of 1,535 tons. It is scheduled to be used for alternating services between the Salzgitter business sites and its customers in the Netherlands and Belgium in order to transport raw and input materials for steel manufacturing, such as scrap steel.
The new vessel is due to go into service in July 2025.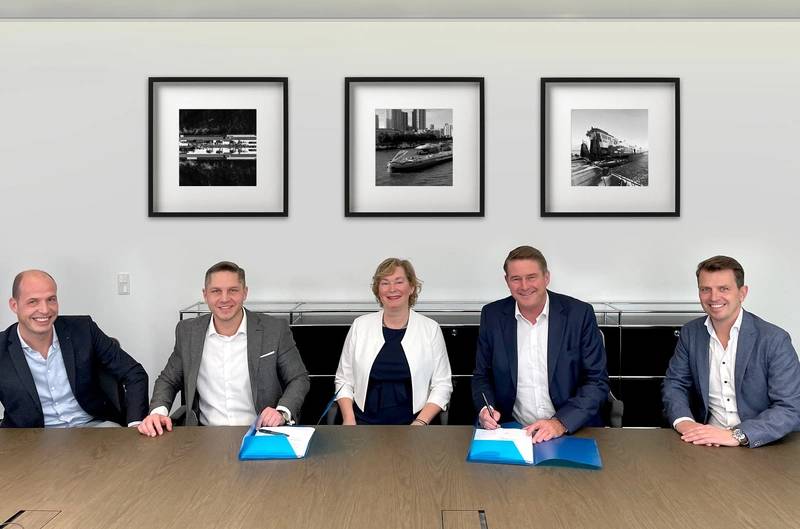 HGK Shipping places order for a new dry goods vessel with De Gerlien van Tiem shipyard: (from left to right) Marcel van Tiem, Project Manager, De Gerlien van Tiem bv, Florian Bleikamp, Head of Chartering Canal / Rhine, HGK Dry Shipping GmbH, Marijke van Tiem, Director, De Gerlien van Tiem bv, Andreas Lemme, Managing Director, HGK Dry Shipping GmbH, Eric Rietveld, Project Manager, De Gerlien van Tiem bv (Copyright: HGK Shipping)