MetalCraft Unveils First Electric Powered Patrol Boat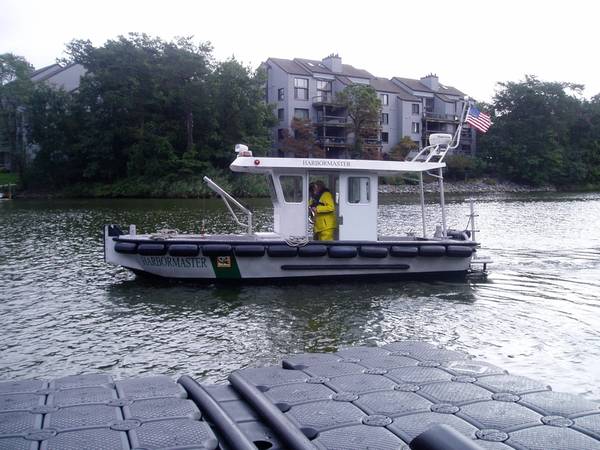 Patrol Boat-1 is really the first, the first ever electric powered patrol boat.
MetalCraft Marine designed and built the boat for the City of Annapolis' Harbormaster. The boat utilizes a Steyr hybrid diesel/electric engine that permits either electric power or for higher speeds, diesel power. The propulsor is a Hamilton 274 waterjet. The jet can propel the boat in electric patrol mode at 4.5 knots, as it approaches and checks boats in the harbor ensuring anchoring permits are valid. To get to other areas of the expansive harbour the diesel propels the boat to 30 knots and recharges the batteries.
The design challenge was how to provide enough battery power to meet the boat's operational profile in such a small boat, 23' X 8'6" and still be able to get on plane. The boat can perform its daily routine of approximately 5 hours on battery and 2 hours on diesel. This appears like a 70% saving in fuel but is actually a 22% saving as the Steyr would sip fuel at idle speeds. MetalCraft designed the 48 volt battery pack, with high output solar assist panel array, around batteries that were commercial off the shelf 31 series high amphour batteries. This would allow Annapolis to easily change out the batteries as they aged. The batteries have a 4-6 year life expectancy. The total value of the eight batteries was $2600.00. The estimated fuel savings is $550.00 per month. The reduction in overall engine maintenance is significant, including a major reduction in oil changes from 24 to 7.2 oil changes per year. This, added to 70% less engine wear, and the savings to operations start to add up.
The speed penalty for the added weight of the batteries and electric power system is approximately 4 knots in high speed diesel mode. MetalCraft explored all battery types for weight, cost and performance considerations and concluded that the KISS principle still holds true in electric powered boats. The LI battery packs studied would have provided up to 50% more range, less weight, no more speed but cost $34,000.00. Capital cost recovery is an important equation to all buyers. MCM will be introducing additional models in the Kingston Electric Series and will introduce electric power systems in the Brunswick Sentry line in the near future.