The city of Makassar in South Sulawesi, Indonesia has seen fast economic growth in the past few years. In 2019, the province's growth reached 6.9% – higher than the 5% national rate – with rapid infrastructure development, particularly in the maritime industry.
As the region's industry grows, it is experiencing rapid digitalisation. Our study with the bilateral research initiative Australia-Indonesia Centre (AIC) this year found significant gaps in digital literacy and skills between the education system and industrial needs in South Sulawesi.
Our team built an instrument that measured individuals' digital competencies in nine dimensions – including computational thinking, digital communication, and supply chain-related digital skills. We then conducted a combination of interviews, focus-group discussions and surveys. These involved young port workers, port management, students from vocational education or VET, and school leaders.
The study found port employees have high scores in aspects such as digital identity and security (4.3 out of 5) and general technology operation (4.2). However, they fall short in five out of nine indicators, and significantly lack in computational thinking (2.36) and supply chain management-related digital skills (2.34).
Research has shown how these two competencies are critical in increasing the effectiveness of port operations.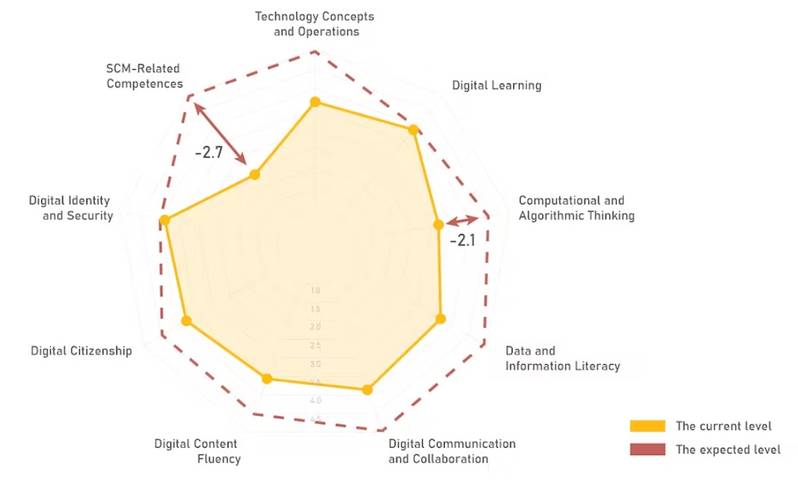 Makassar Port employees fall short in most digital skill indicators. (Australia-Indonesia Centre), Author provided
Computational thinking, for instance, affects how well operators can plan the loading and unloading of containers in ports. Similarly, digital skills in supply chain management are vital in operating logistical programs and platforms.
Our research suggests these gaps exist for a number of reasons. This includes the limited availability of training programs for young employees, and also school curricula and teachers who fail to equip graduates with sufficient digital competencies.
Here, we view vocational education as key in closing this digital skills shortage and identify opportunities to improve existing program offerings at local VET schools in Makassar.
In Indonesia, for instance, VET schools from secondary (known as "SMK") to higher education (known as "politeknik") in part aim to advance students' digital skills. Their curricula are structured based on current job market demands, and are designed to meed the needs of workplaces.
Improving these schools – and consequently closing the competency gap – could help young workers fully reap the economic benefits of bustling maritime economies such as Makassar.
Improving vocational education to close the digital literacy gap
To assess how well current education programs offered by local VET school address the digital literacy gap among young port workers, we conducted interviews and surveys with 198 students and seven school leaders in Makassar.
We found these VET school students score slightly lower than the young port workers in most aspects, and like them, also significantly lack computational thinking (3.2) and supply chain management-related digital skills (2.4).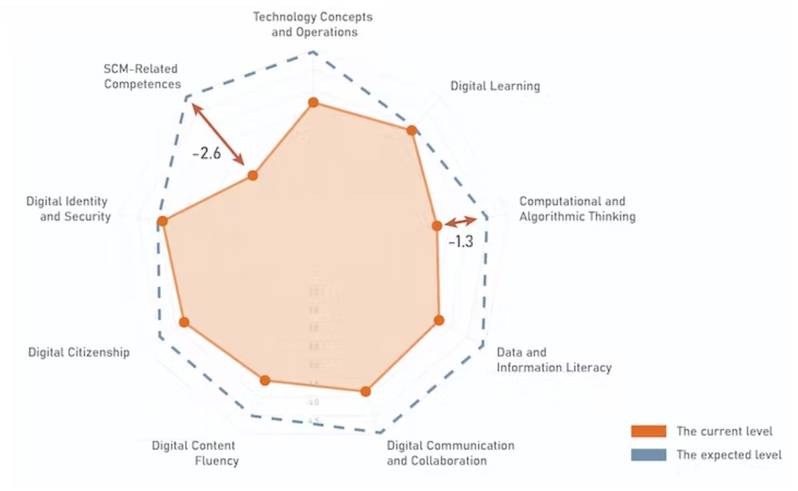 VET school students in Makassar score higher than port employees in computational thinking and supply chain management-related digital skills. (Australia-Indonesia Centre), Author provided
However, VET students' scores in these two aspects are still higher than their seniors in the port industry.
This shows VET schools already have a strong foundation in producing talented young graduates. With some improvement – such as in curricula and teaching – VET schools can become ideal partners for Makassar's maritime industry for digital training and sourcing digitally literate talent.
However, we also identify limited understanding of enterprise applications among VET students. In total, about 52.5% of students demonstrated low competence using software related to supply chain management.
To address these gaps, our teams suggest a number areas to improve within VET schools in Makassar:
1. Develop and redesign curricula to develop digital skills relevant to businesses
In the current version of Indonesia's curriculum for VET schools, digital identity and security, supply chain management-related competencies and technology concepts and operations are three main digital competencies that have not been addressed.
Therefore the curricula at VET schools are not aligned with the needs of the Makassar's maritime industry.
VET schools should consider conducting a series of curriculum development or redesign workshops involving stakeholders from the industry including the Makassar Port, and academics and consultants focusing in digital literacy.
Our proposed digital literacy framework can guide this curriculum redevelopment.
Local VET schools can also establish partnerships with leading universities in Indonesia and neighbouring countries to support the development of young people's digital skills and supply chain management competencies.
2. Enhance teaching staff competencies
Makassar VET schools also need to identify teaching staff who do not have digital competency certificates.
By law, teachers require certain certifications – administered by the Ministry of Education – to teach subjects such as information and communication technology, information management, software engineering, computer and network engineering, and multimedia.
However our data show more than half of the teaching staff at two VET Schools in Makassar have not been certified. The level of certification in these VET schools are only 10% and 23.6%, respectively.
3. Strengthen partnerships between local VET schools and industry
The Ministry of Education has established policies to build a strong connection between VET schools and industry. However, these partnerships, including those involving the Makassar Port, have not been established.
Apart from ensuring the relevance of vocational education to industrial needs – such as through internships and curricula alignment – education-industry partnerships can also jointly bear the cost of education so students are ready to enter the workplace.
We need to forge a stronger relationship between important stakeholders, including the South Sulawesi Provincial Education Office, the Makassar Port, and local VET schools.
---
This research is funded by the Australian government through the PAIR program facilitated by the Australia-Indonesia Centre (AIC).
The Australia-Indonesia Centre (AIC) supports The Conversation Indonesia (TCID) in the publication of this article.
Authors
Sherah Kurnia, Associate Professor at the School of Computing and Information Systems, The University of Melbourne
Achmad Nizar Hidayanto, Vice Dean for Resource, Venture, and General Administration, Faculty of Computer Science, Universitas Indonesia
Agus Wicaksana, PhD Candidate in Operations and Supply Chain Management, The University of Melbourne
Armin Lawi, Associate Professor (Lektor Kepala) of Computer Science, Universitas Hasanuddin
Dr Rod Dilnutt, Industry Fellow, The University of Melbourne
Hafizh Rafizal Adnan, PhD Student in Information Systems and Analytics, National University of Singapore
Rizky Utami, Lecturer, Universitas Hasanuddin
Sri Astuti Thamrin, Ph.D/ Dosen Universitas Hasanuddin, Universitas Hasanuddin
Reviewer
Helen Brown, Lead, Communications and Outreach, Australia-Indonesia Centre
(Source: The Conversation)