Maersk's Methanol Ship Makes Maiden Refueling in Rotterdam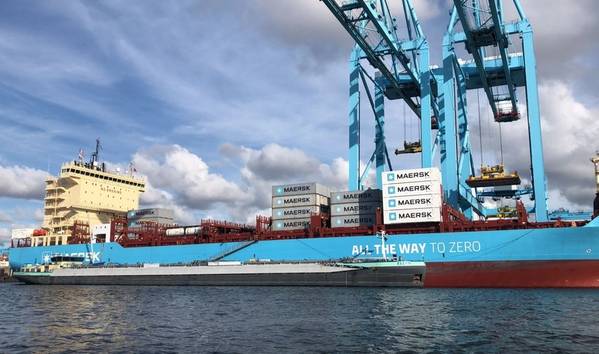 The port of Rotterdam has for the first time refueled a methanol-powered container ship as the shipping industry turns to the technology to cut its emissions, methanol producer OCI Global said on Tuesday.
The Maersk-owned ship began its 21,500 km (13,359 mile) journey to Copenhagen from South Korea's Hyundai Mipo Dockyard on July 10.
It also refuelled in Singapore, another major shipping hub before its stop-over on Tuesday in Rotterdam, Europe's largest port and ship-refueling hub, as the entire voyage is powered by green methanol.
A low carbon fuel, green methanol is produced from renewable feedstocks, including hydrogen and biomethane and the shipping industry hopes it will help it to achieve a goal of net zero emissions by 2050.
Maersk, one of the world's largest shipping companies, will name its new vessel when it reaches Copenhagen in September.
It has ordered another 24 of the vessels that can run on conventional fuel oil as well as methanol.
In all, consultancy DNV expects 30 of the new ships will be launched this year and the number will exceed 200 by 2028.
(Reuters - Reporting by Johannes Birkebaek; editing by Barbara Lewis)