ICTSI Net Income Up 22% in 2018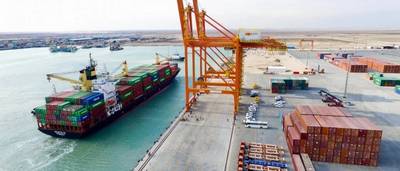 Manila-head quartered port and terminal operator International Container Terminal Services (ICTSI) has released solid results for 2018. ICTSI's box volumes were higher, revenues increased and the group generated higher profit.

The port operator said in a stock exchange annoucement that its consolidated volume higher by six percent to 9,736,621 twenty-foot equivalent units (TEUs) (FY2017: 9,153,458 TEUs) and revenue from port operations increased 11 percent to US$1.4 billion (FY2017: US$1.2 billion).

Its net income attributable to equity holders up strongly by 22 percent to US$221.5 million (FY2017: US$182.1 million).

Enrique Razon, Chairman of ICTSI said: "I am pleased to report strong full year operating results for 2018. Our drive in maintaining positive volume growth organically and through M&A, our focus on cost and operating efficiency, and the constructive global trade dynamics outside of the U.S.-China "trade war" combine to provide a case for cautious optimism in 2019."

The increase in net income was mainly due to strong operating income from organic terminals; a decrease in the Company's share in the net loss at Sociedad Puerto Industrial Aguadulce S.A. (SPIA), its joint venture container terminal project with PSA International Pte Ltd. (PSA) in Buenaventura, Colombia, which decreased from US$36.8 million in the year of 2017 to US$23.4 million for the same period in 2018 as the company continued to ramp-up container volume; lower restructuring and separation costs; and a US$2.8 million non-recurring gain from the pre-termination of interest rate swap related at its terminal in Manzanillo, Mexico in May 2018.

The increase however was tapered by higher fixed port lease expense at Melbourne, Australia; a US$5.8 million non-recurring impairment charge on the goodwill at its terminal in Davao, Philippines in 2018; and a US$7.5 million non-recurring gain on the termination of the sub-concession agreement in Nigeria in the second quarter of 2017.

Excluding the impact of the interest rate swap pre-termination, impairment charge and termination of the sub-concession agreement, consolidated net income attributable to equity holders would have increased by 29 percent.

The Group's capital expenditure for 2019 is expected to be approximately US$380.0 million. The estimated capital expenditure budget will be utilized mainly for the ongoing expansion projects in Manila, Mexico and Iraq; equipment acquisitions and upgrades; and for maintenance requirements.