Giampiero Soncini named CEO of IB Marine Division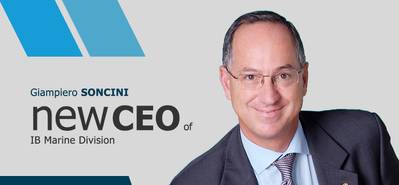 Giampiero Soncini will assume the role of CEO, Marine Division, at IB Marine.

"Under his guidance IB Marine is looking to become a major player in the Marine IT sector", says Maurizio Ricci, IB President, who will retain the role of CEO IB Industry Division. "Giampiero and I have been competitors for over 30 years, and it is simply amazing that we can now work to build something together".

Giampiero Soncini replies: "IB has been in Business for over 35 years. I have known them and respected them for 30. They share my same values when it comes to business: they put customers, product innovations and employees first. We agree that if we take care of these three elements, growth and positive results will come as a natural consequence. It's a philosophy which appears to be lost in a lot of companies, where business is driven by personal bonuses and profits at all costs. Sometimes it is good for stock markets, but sometimes it is really not that good for staff, companies and customers".
Daniele Bottazzi, IB Chief Commercial Officer, concluded that "Marine IT is going through a deep and fast transformation, and IB has new and powerful products, very innovative, ready for the market. With the help of Giampiero, we intend to grow prudently, progressively but relentlessly".

IB employs over 100 people, and is based in Rapallo, on the Ligurian coast near Genoa, with offices in Cyprus, Germany, Norway and USA. A strong and well financed expansion plan (including the opening of new offices in Asia, and Middle-East, in addition to the ones already existing) will be unveiled in the weeks to come. IB markets two main line of InfoSHIP products:
An Energy Governance solution, aimed at reducing fuel consumption but also dealing with SEEMP, ERS, Oil Record Books, Electronic Log Books etc. and related issues. The products provide full vessel remote monitoring, as a standalone software or in association with a Fleet Operation Remote Centre. The software employ a high level of Data Analysis and Machine Learning
An ERP solution for Maintenance, Procurement, Quality & Safety
• Cyprus • Germany • Middle-East