Q-Flex LNG Tanker Transits Panama Canal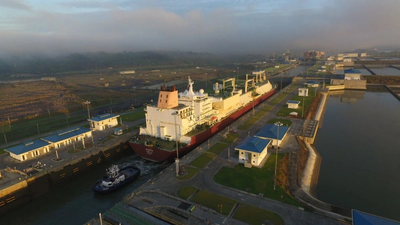 Qatargas' Al Safliya recently transited the Panama Canal, the first Q-Flex and the largest liquefied natural gas (LNG) tanker to ever transit the waterway.

The tanker–which measures 315 meters in length and 50 meters in beam with an overall cargo capacity of 210,000 cu. m. of LNG, transited northbound from the Pacific to the Atlantic Ocean.
Q-Flex LNG tankers can now pass through the Panama Canal following an increase in the maximum allowable beam for vessels transiting the Neopanamax locks. Implemented in June 2018, the maximum beam allowed is 51.25 meters, up from 49 meters, as measured at the outer surface of a vessel's shell plate and all protruding structures below the lock walls. Such an increase was made possible as a result of the efficiencies gained by the Panama Canal's continued investment into its operations and resources, and due to the ongoing excellence and experience of its employees.
The Panama Canal is expecting to see further growth in its LNG transits following the new beam increase. In 2018, the Canal saw 340 LNG transits, up from 181 transits in 2017. So far in 2019, the Canal has seen over 100 LNG transits.