Enhanced Vessel Tracking via Oceans X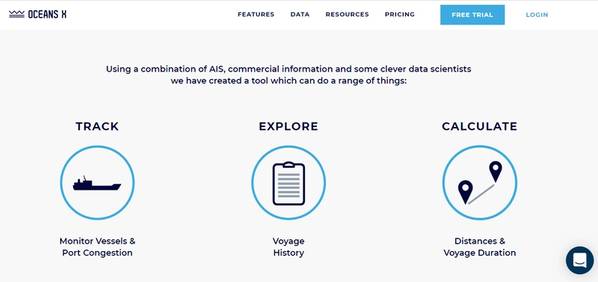 Oceans X is a new web-based platform that allows a wide variety of users such as port agents, bunkers suppliers, port chandlers, port authorities, banks and others to track and monitor tankers and dry cargo vessels globally and in real-time.
Oceans X's vessel monitoring technology uses a combination of automatic identification system (AIS), artificial intelligence (AI) and predictive data analytics to add value for the user.
For example, sing Ocean X's Distance tool feature, which is available to all users for free, users can calculate distances based on a vessel's current location, ports, or coordinates. Users can also determine voyage duration by adjusting speed, routing points, SECA and piracy paths.
In addition, subscribers of the full platform get access to premium features where they can:
●Track and monitor Vessels' movement
●View Vessels at Port and port congestion
●See which vessels are expected at ports and when
●Check Bunker Prices at key ports
●Predict a vessel's near future voyage
●Analyse vessels from start to load to discharge port including their corresponding dates, jetties and ship-to-ship (STS) operations.
For a free trial visit: www.oceansx.com