Dominique Rigby
Junior at the State University of New York Maritime College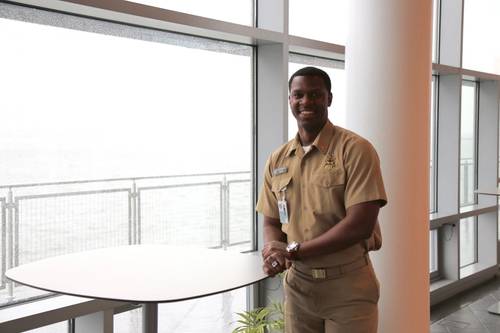 MarPro's Future Leader Series


Maritime Professional's newest feature – both here online and within the pages of our quarterly print magazine – involves highlighting the profiles of today's maritime academy cadets from around the country. These cadets and students represent a large subset of the future professionals who will one day provide the leadership, innovation and technical expertise for the greater waterfront – here and abroad. We'll do this in sequence, working with those schools that choose to participate.

In a nutshell, the profiles will let readers and employers know who is coming up; it lets the students themselves shine a bit and gives the academies a chance to showcase their best and brightest. The profiles center around five questions for each student – we call it "five questions in five minutes."

Our first featured cadet is showcased below:


Dominique Rigby, of the Bahamas
Junior at the State University of New York Maritime College
Major: mechanical engineering and a license student

Why this school?
When I was younger, I tried for a scholarship through the Bahamas Maritime Association to go to California Maritime or SUNY Maritime. I wasn't successful so I joined the military, the Royal Bahamas Defense Force. We decided to upgrade our fleet and the Defense Force needed people to volunteer to be engineers on it. I volunteered and that's why I'm here.

What keeps you here?
SUNY Maritime is better than I expected in regard to the challenges, the 21st century learning, the simulators, the professors. I like the engine side because it challenges me and it taught me perseverance. I also stay for the networking opportunities, not only with my classmates. I had the opportunity to meet a four-star general who is the commander of the U.S. Transportation Command.

What is your major and what career do you intend to pursue?
I am a mechanical engineering major; with my military background in marine diesel, that major made sense. I can see a full-time career in the military but that's easy to say when you don't have the wife, the kids, and the mortgage. I'm leaning that way so far but if that doesn't work, the back-up plan is managing a resort or a plant. I'm more of a practical, hands-on person than someone who wants to be locked up in an office.

What one thing should prospective employers know about you?
One thing employers should know about me is my ability to adapt and catch on quickly. My first job had a lot of things that were very specialized – only certain people would do certain tasks. People were hesitant to learn different things. I just took it all on. If they were willing to teach, I was willing to learn.

Tell us about your sea training or internships.
I have done two summer sea terms aboard SUNY Maritime's Empire State VI. I found it to be quite challenging. During the semester, you are bombarded with theory. On the ship, you get to reinforce that theory by doing and it really helps you to retain the knowledge. It wasn't an internship, but during my second summer here, my military sent me to the Netherlands to learn about the ships we are building with Damen. It showed me what we're learning here is real, not just theory. I met someone in naval architecture and he said he was impressed with how much I understood of what he was saying when I told him that I was in my first year at SUNY Maritime. He said he would have expected that knowledge of a third year. I saw where they were laying the hull and I even worked one day to help build the ship. I can say that I'll be sailing on a ship that I helped to build.