VT Halter in Pascagoula, MS has been on a strong run, capped by its winning the high-profile contract to build the U.S. Coast Guard's next generation of icebreakers. Maritime Reporter recently spoke with Ron Baczkowski, President and CEO, VT Halter Marine, for insights on the shipyard's recent success and future prospects.

Globally, the shipbuilding industry has gone through some 'interesting' times of late. How has it looked from your perspective?
The shipbuilding market and activity at VT Halter during the past 12 months has been dynamic. Commercial and government program opportunities alike, with the continued development and proposal submittals, followed by the award of the Polar Security Cutter being a highlight.

How does it look for the coming 12 months?
We are encouraged by the outlook for our government and commerce opportunities in the coming year.

How has your company invested in its yard(s) over the past year?
Over the past 24 months, we have invested heavily in our capital improvements, employee training, environmental improvements and engineering. We are committed to continuous process improvements. We are currently upgrading our structural fabrication work stations to replace old outdated equipment with new equipment for steel panel line fabrication, this includes one-sided steel plate welder, structural profile fitter with automatic weld tacking station and automated eight head profile weld station. This will allow us to improve quality of our products and production efficiency by up to 35 percent at these work stations.
New in 2018, VT Halter Marine debuted the blast and paint facility, a cutting edge, enclosed building that allows our crews to work in any weather conditions while in an environmentally safe atmosphere. The facility is also designed for 24/7 operation in all weather conditions, and uses 100 percent LED lighting to reduce energy consumption and carbon footprint.

VT Halter recently won one of the most coveted shipbuilding contracts, the deal to build the U.S. Coast Guard's Polar Security Cutters. Discuss the importance of this contract to your shipyard.
The USCG Polar Security Cutter project is a great opportunity for our shipyard the local community, the state of Mississippi and the U.S. We are already in the design phase, and gearing up for the program, with all of our employees doing their part and getting ready. We are hiring 900 new jobs, which will more than double our workforce, and every job we add supports our local economy. We are proud to have been selected for this program, which is necessary to meet national defense and homeland security mission demands.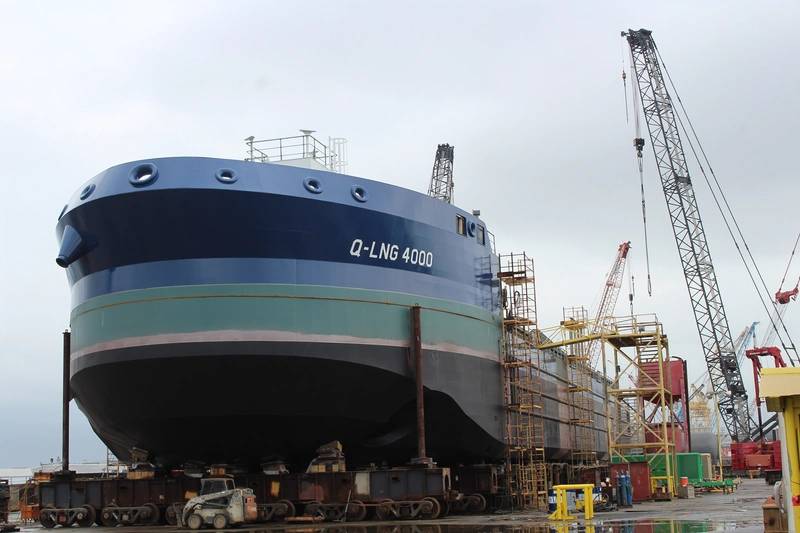 Q-LNG's 4,000 cbm ATB Bunkering barge in production. Photo: VT HalterWho do you count as key teammates to bring this project from inception to finish?
VT Halter Marine is teamed with Technology Associates, Inc. as the ship designer and, for over two years, we have participated in the U.S. Coast Guard's Heavy Polar Icebreaker Industry Study. The ship design is an evolution from the mature "Polar Stern II" currently in design and construction; the team has worked rigorously to demonstrate its maturity and reliability. During the study, TAI incrementally adjusted the design and conducted a series of five ship model tank tests to optimize the design. In addition to TAI, VT Halter Marine has teamed with ABB for its Azipod propulsion system, Trident Marine for the Machinery Control and Monitoring System, Raytheon for command and control systems integration, Caterpillar for the generator sets, Jamestown Metal Marine for joiner package, and Bronswerk for the HVAC system. The program is scheduled to bring an additional 900 skilled craftsman and staff to our Mississippi-based shipyard.

How does this project differ from others you have run through your yard?
Size- and capacity-wise, the Polar Security Cutter program is similar to the previous programs such as the Crowley Con-Ro and the PASHA car carrier.

What is the timeline to design, build and deliver this ship?
We are currently in the design phase, and construction is set to begin in early 2021. Final delivery is planned for mid-2024.

How is the shipyard investing to accommodate this specific project?
We are expanding our Pascagoula shipyard. We are upgrading our side launch facility for the Polar Security Cutter and upgrading a second NC plasma cutter for beveling of thick plates. We are adding a robotic plasma shape cutter, robotic welder micro-panel fabrication line, robotic welders to the assembly lines and adding four 60-ton overhead cranes in the assembly bays.

Discuss if you will your business management philosophy, and discuss the key to running a successful, profitable U.S. shipbuilding business today.
Our most valuable asset is our people. We are committed to hiring the brightest and most capable engineering and office staff as well as skilled and dedicated craftsmen and women. VT Halter has a continued commitment to protecting the environment, which is why we created the Blast and Paint Facility. It has attracted the attention of many companies in the shipping industry because we all are committed to working safely and with a finely attuned dedication to being environmentally sound.

Recent Activity at VT Halter

Contract awards:
(1) U.S. Navy Polar Security Cutter
U.S. Navy CHAMP program
(3) U.S. Navy Auxiliary Personnel Lighter
(1) ATB Tug
NAVSEA T-AGS 67 Oceanographic Survey Vessel study
(2) Logistic Support Vessels - Undisclosed
(1) Q-LNG – Offshore U.S. flagged, Jones Act compliant 4,000cbm LNG bunkering ATB barge
(1) Q-LNG – Offshore ATB tug
NOAA NAV AGOR study

Vessel deliveries:
Crowley Maritime Corp's M/V Taino
Crowley Maritime Corp's M/V El Coqui
Bouchard Transportation's M/V Evening Breeze
Virginia Department of Transportation, the Jamestown Ferry (scheduled delivery Sept. 2019)

Profile: Ronald F. Baczkowski, CEO, VT Halter Marine, Inc.
Ronald Baczkowski is currently the President and Chief Executive Officer of VT Halter Marine, Inc. Prior to this assignment, he served as Vice President of Business Development at VT Systems, Inc.; VT Halter Marine's U.S. parent headquarters. He has also served as Chief Operating Officer of Angarai International Inc., a professional management consulting firm; and as Senior Program Manager at Engility Corporation, an integrated services provider to the U.S. government. He started his professional career in the United States Marine Corps in 1980 and retired with the rank of Brigadier General in 2012. He held various command and staff positions directing high-level strategic initiatives. He has extensive experience in strategic planning, change management, and organizational leadership. Ronald Baczkowski holds a Bachelor of Science in Mechanical Engineering from the U.S. Naval Academy; a Master of Science in Systems Management and Logistics from the University of Southern California, and a Master of Science in National Resource Strategy from the Industrial College of the Armed Forces.