Qingdao Cruise Terminal Construction Kicks Off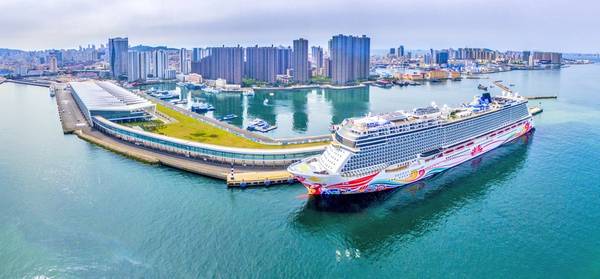 An event officially signalling the start of construction on Qingdao International Cruise Terminal in China was held alongside a global promotion launched to attract investment.
At the event, the People's Government of Qingdao signed a cooperation agreement with Shandong Port Group for a RMB10 billion project, and inked contracts with a number of partners for 14 industrial projects with a total investment of RMB31.35 billion.
The government of Qingdao's Shibei District is pushing on a project to develop into the core area of the International Shipping Trade and Financial Service Innovation Center that Qingdao is building. The 14 projects focusing on water transportation, trade, financial services, cultural tourism and other fields, are expected to help form an integrated industrial ecosystem consisting of not only trade but also logistics and financial services.
The projects include: Shanghai Maritime University (Qingdao) Graduate School's Qingdao Free Trade Zone Supply Chain Research Institute, Smart Vessels Research Center and Element Fire North Headquarters, which are designed to develop strategies for shipping trade and solutions for smart vessels and ports; Ronghui Finance's Special Fund for Shipping and Ocean Industries; Shandong Express Capital Management Project; Qinggang Commercial Factoring Headquarters; project of Qingdao International Investment Co Ltd; project of BAIC Group Finance Co Ltd; Ronghui Finance's Special Fund for Fintech Development; seven new finance projects of "No.1 Grain Depot" New Finance Industrial Park; a new trade project of Shandong Arpa Network Co Ltd.