AD Ports Aims to Address Maritime Infrastructure Gaps Across Africa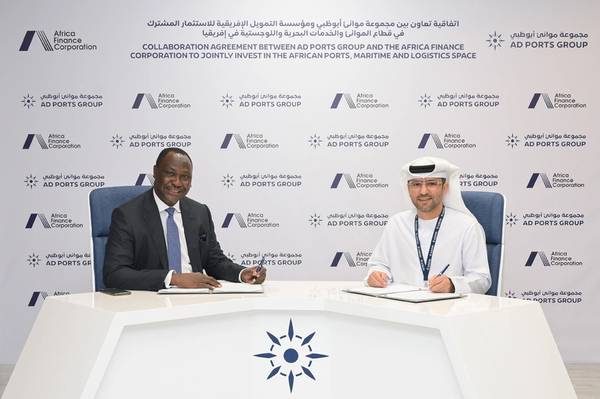 Abu Dhabi based AD Ports Group announced it has signed a collaboration agreement with the Africa Finance Corporation (FC) to address infrastructure gaps across the continent.
The agreement provides the basis for the two organizations to join forces on identifying, financing, developing and investing in ports, warehouses, maritime and logistics infrastructure projects across Africa, focusing on brownfield and greenfield opportunities.
AFC is a pan-African multilateral development finance institution that bridges the infrastructure investment gap through the provision of financing solutions that cover the entire project cycle as well as technical and advisory services. Over the last 15 years, AFC has invested more than US$ 10 billion in infrastructure projects across 37 countries in Africa.
According to AD Ports Group, the collaboration agreement could provide vital support for ports and maritime facilities in Africa. According to a report from the African Union (AU), throughput at African ports will reach 2 billion tonnes by 2040, a major challenge when the current average dwell time – the time cargo spends at port – is around 20 days across the continent, compared to the global average of four days.
Capt. Mohamed Juma Al Shamisi, Managing Director and Group CEO, AD Ports Group, said, "Some of the world's fastest-growing economies are in Africa, necessitating the creation a new generation of ports and maritime facilities, supported by smart technology and enhanced freight infrastructure. We see a key opportunity to support African nations in their efforts to develop advanced trade hubs that can manage the rising volume of maritime commerce and deliver excellent connectivity. Working with AFC, we will look to prioritize projects that can make a lasting impact on the economies and communities of their respective nations, in-line with the direction of our wise leadership to support progressive development."