Port of Virginia Completes $320M Expansion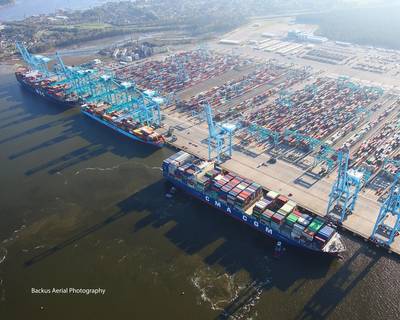 Governor Ralph Northam announced the completion of the Port of Virginia's $320 million expansion at the Virginia International Gateway container terminal.
The Governor was joined by U.S. Maritime Administrator Rear Admiral Mark Buzby, Virginia Secretary of Transportation Shannon Valentine, and Virginia Port Authority CEO and Executive Director John Reinhart. This project is part of a larger, $700 million project, begun in February 2017, to expand the Port's two primary container terminals to increase capacity by 40 percent.
"The completion of the VIG expansion enables the Port to move cargo more safely, efficiently, and sustainably than ever before and cements Virginia's position as home to a world-class port," said Governor Northam. "That reputation will help drive economic investment and job creation
across the Commonwealth."
Throughout the expansion at VIG, the Port maintained service levels, handling a record-setting three million TEUs of cargo in FY2019. As the container terminal expansion was completed ahead of time, the terminal is well positioned to handle peak season volumes.
"The Port of Virginia is a catalyst for commerce, generating $88 billion of economic impact annually throughout the Commonwealth," said Secretary of Transportation Shannon Valentine. "The completion of this project will enable the Port to continue to connect Virginia's economy and America's businesses and consumers to markets around the globe."
In addition to achieving best-in-class results, the VIG terminal is seeing turn times for motor carriers calling at the terminal well below the industry standard of one hour. This is in part due to a newly-implemented reservation system, which is driving an even flow of trucks through the gates each day and helping terminal staff prepare for the next day, as well as increasing to four the number of lanes at the truck-processing gate. Additionally, productivity increases can be linked to a larger rail yard, greater capacity for refrigerated cargo, and technology advancements.
The 800-foot extension of the berth at VIG will allow the terminal to service as many as three Ultra-Large Container Vessels (ULCVs) simultaneously. VIG now boasts 26 new rail-mounted gantry cranes as well, which support 13 new container stacks, creating more room to stack and sort containers. In January, four new 170-foot-tall ship-to-shore cranes arrived at the Port. These cranes are the largest on the U.S. East Coast and will be able to service container vessels, regardless of their size, for decades to come.