Port Manatee Breaks Container, Tonnage Records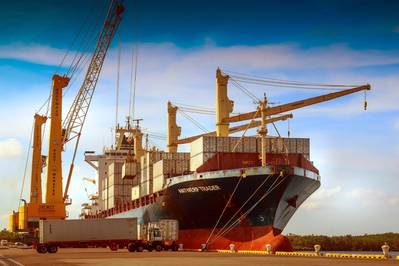 Port Manatee has shattered prior annual records for container volume while also reporting its top year ever for total cargo tons moved in the fiscal year ended Sept. 30.
The Central Florida Gulf port's count of 39,726 twenty-foot-equivalent container units for the just-ended fiscal year bested by a whopping 52 percent the 26,210 TEUs that moved through the port in the 12-month period ended Sept. 30, 2016, and was 31 percent more than the prior high mark of 30,431 reported for the fiscal year ended Sept. 30, 2010.

Figures reported today [Tuesday, Oct. 10] for containerized tons also shattered the previous record, reaching 363,195 in the recently concluded fiscal year, up 39 percent from 261,094 the preceding year and 35 percent more than the old record of 268,530 set in fiscal 2010.

Total cargo tons moving through Port Manatee reached 7,809,859, up more than 13 percent over the 6,889,603 tons in fiscal 2016 and up 1 percent from the prior best of 7,736,724 tons in fiscal 2010.

"As one of the nation's fastest-growing containerports, Port Manatee not only is proving to be an integral player in the supply chain but also is continuing to increase its significant contributions to the economic vitality of our region," said Vanessa Baugh, chairwoman of the Manatee County Port Authority.

Carlos Buqueras, Port Manatee's executive director, said the big boost in container activity is largely due to the ongoing transition to containers from breakbulk shipping by longtime tenant Del Monte Fresh Produce N.A. Inc. for Central American pineapple and banana imports, plus the success of World Direct Shipping's weekly service that has brought refrigerated produce from Mexico since November 2014.

"All signs point to another record-breaking year for container activity in fiscal 2018," Buqueras said, noting the Oct. 5 announcement of ocean carrier World Direct Shipping's plans to augment its weekly sailings from Coatzacoalcos, Veracruz, with a second weekly service from Tuxpan, Veracruz, beginning in January. "These are truly exciting times at Port Manatee."

Gains for fiscal 2017 also were reported by Port Manatee for:
 Dry bulk tons, at 1,326,741, up 64 percent from 807,351 in fiscal 2016;
 Breakbulk tons, at 548,855, up more than 3 percent from 530,609; and
 Liquid bulk tons, at 5,571,068, up more than 5 percent from 5,290,549.
Located "Where Tampa Bay Meets the Gulf of Mexico," Port Manatee is the closest U.S. deepwater seaport to the expanded Panama Canal, with 10 40-foot-draft berths serving container, bulk, breakbulk, heavylift, project and general cargo customers. The port generates more than $2.3 billion in annual economic impact for the local community, while supporting more than 24,000 jobs, without levying ad-valorem taxes.

• Carlos Buqueras • Central Florida • Gulf of Mexico