Moose Boats for Rochester FD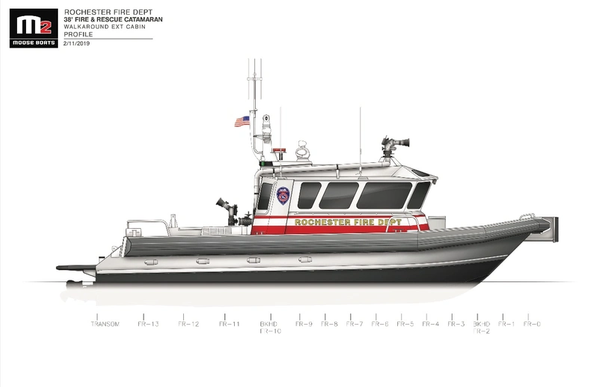 Moose Boats won a contract from the City of Rochester, NY, Fire Department for the construction of the first M2-38 Fire Rescue Catamaran to be delivered to the Great Lakes.

Twin Cummins 425hp turbo diesel propulsion engines, Twin Disc transmissions and Hamilton water-jets will power the M2-38 aluminum catamaran.
Rochester Fire's new Moose Boat will be equipped with a fire pump system flowing more than 1,500 gpm of fire suppression water to cabin roof and cockpit mounted monitors while simultaneously maintaining full maneuverability from both propulsion engines and jets. An integrated 5-in diameter discharge will allow Rochester Fire to flow water to land based fire apparatus where hydrant systems are not present.
The navigation and electronics suite is comprised of multi-function navigation screens, radar, 3D side scan sonar, AIS, VHF radios, radio direction finder and a thermal imaging camera. A heavy-duty push knee will enable the M2-38 to come in contact with larger vessels and piers while the combination ladder will allow fire fighters to disembark in beach landing scenarios and facilitate dive and rescue operations from the stern.
The City of Rochester used New York State DASNY Grant funding and GSA's Schedule 84 Cooperative Purchasing clause to procure the boat from Moose Boats' GSA pricing schedule.