Maersk Publishes Sustainability Report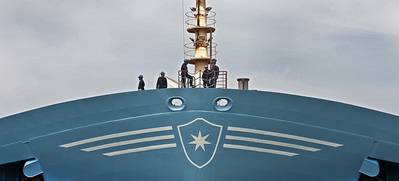 Having launched a new sustainability strategy last year, the Maersk Group has published its 2014 sustainability report, covering aspects of the group's 2014 sustainability performance including human rights, anticorruption, responsible procurement, diversity, as well as performance and efforts within safety and the environment.
Group CEO Nils S. Andersen said, "Our efforts in sustainability rest on one premise: it must support both society and our business activities. We focus on accelerating the positive impact of our business on society where it creates value for the business at the same time."
The strategy, which runs from 2014 to 2018, has three focus areas: enabling trade, energy efficiency and investing in education.
Enabling trade to unlock growth
According to Maersk, better integration and lower trade barriers help advance economic development for many more people; for example reducing supply chain barriers only half the way to global best practice standard, could increase the global GDP by $2.6 trillion according to World Economic Forum's 2013 Global Enabling Trade report.
With 90% of the world trade travelling by sea, the Group has an important job to do, Andersen said: "700 million fewer people now live below the poverty line compared to twenty years ago. Trade and better integration of low-income countries into the global economy have helped drive that transformation."
In 2014 the group conducted a number of studies of its actual and potential impacts across value chains, which will be used in the local business development. It also initiated projects covering among others reducing administrative trade barriers for farmers in East Africa; training companies in the Americas in logistics and transport capabilities; and lifting tuna fishing industry in East Indonesia.
Maersk said it works with other companies and external partners, such as the Inter-American Development Bank, NGOs and governments, on projects to improve local ability to access global markets.
Improvements in energy efficiency
The Maersk Group's CO2 efficiency improved by 5% in 2014, totaling a 21%-improvement from a 2010 baseline. Maersk Line, as the biggest contributor to the Maersk Group's overall emissions, improved its efficiency by approximately 8% in 2014 and saved $98 million worth of fuel.
The group has raised its overall target for improving CO2 efficiency to 30% by 2020 from a 2010 baseline.
"We sustain our efforts at decoupling growth from resource consumption. For the first time, our projections show that this is possible also over the period up until 2020," Andersen said.
Investing in education locally
Maersk said lifting local skills can help societies' growth and development, as well as counter the skills shortage that challenges the company's growth strategy.
In 2014 the group initiated work on a new model for education pipeline development. The key assumption is that investing in secondary school and basic vocational training in growth markets will facilitate long-term industry growth and support future employment. Once finalized, the model will also deliver guidance for Maersk's businesses on priorities for strategic investments in education.
Key facts from the Maersk Group's sustainability report:
21% CO2 efficiency improvement since 2010 across the group
39% CO2 reduction per container in Maersk Line from a 2007 baseline
Just short of 10,000 people were trained in anticorruption in 2014
In 2014, the group allocated up to $1 million to support the UN's logistics efforts against the Ebola crisis in West Africa and made 66 pro bono shipments carrying 370 containers of food, medicine and vehicles to the affected countries.
The report serves as Maersk's Communication on Progress (COP) to the UN Global Compact, and it has been assured by an external assurance provider.
• The Maersk Group • Nils S. Andersen • energy efficiency