A group of partners aiming to boost efficiency and sustainability for transporting goods in and around London has come together to trial shipping light freight on the River Thames.
The non-profit Cross River Partnership (CRP) recently launched the London Light Freight River Trial, London's first daily, multi-supplier, river freight trial, as part of the Defra-funded Clean Air Logistics for London project. The group has been working with the Port of London Authority (PLA), Lyreco UK & Ireland, Speedy Services, Thames Clippers Logistics, Grid Smarter Cities and Pedal Me to deliver the trial, which officially began on February 27, in an effort to highlight how the river can enable fast, efficient and consistent deliveries in a more sustainable way for the next day delivery market as well as return deliveries.
The trial is being delivered in two phases, both leaving from PLA's recently acquired Dartford International Ferry Terminal and taking approximately 1 hour to reach Bankside Pier. Phase 1, which was completed on March 10, called at Bankside pier only, while Phase 2, calls at both Trinity Buoy Wharf and Bankside pier.
Once the goods reach the pier, cargo bikes and electric vehicles are being used for transport to their final destinations. At Bankside Pier, this is being supported by the new dynamic loading bays which form part of the Kerb Dock project looking at the viabilities of unloading/loading activities near pier locations.
Fiona Coull, Program Manager, Cross River Partnership, said, "It has been brilliant to work with so many partners on the London Light Freight River Trial to get more freight into central London by river rather than by road. Incorporating return deliveries even further highlights how effective the river can be for just-in-time deliveries, as well as the opportunity it provides to help businesses reduce their carbon footprint and improve congestion and air quality."
The river freight trial is said to be the first to incorporate return deliveries with returns being picked up at each pier location in addition to goods being unloaded. Return deliveries are then transported to Dartford International Ferry Terminal on the vessel the following day.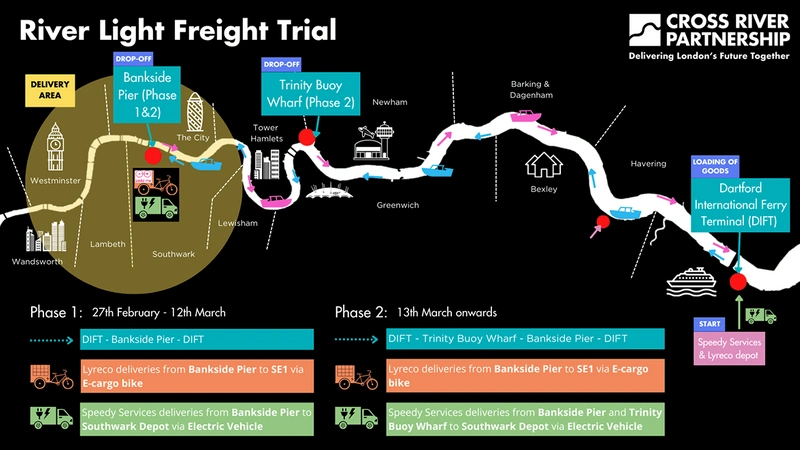 (Image: Cross River Partnership)
Sean Collins, CEO, Thames Clippers Logistics, said, "It is becoming increasingly slow, difficult and expensive for businesses to move their products into central London. We have long believed in the untapped potential for the Thames to offer a fast and reliable route into the heart of the city, with the added benefit of removing commercial vehicles from the highly congested London roads. We have 24 years of experience in providing high-speed river transportation across London for commuters and visitors using the Thames, so we are excited and committed to delivering a rapid, sustainable logistics solution to meet the future needs of our Capital."
Bringing goods into central London via the Thames is proven to emit less than half of the carbon of road transport, CRP said, noting its previous river freight trial found that the using the river for freight resulted in a 78% saving in NOx and an 88% saving in CO2 in comparison to traditional road-based delivery methods.
By taking part in the trial, Lyreco UK & Irelands, for example, has taken one of its delivery vehicles off the road, helping to contribute to reducing the London's air pollution and congestion.
Andrew Bryers, Head of Sustainability, Lyreco UK & Ireland, said, "Although Lyreco are moving to phasing in our electric fleet, which we have already done in London, this is only a steppingstone to reducing our emissions. We need to look at ways of getting vehicles off the roads, especially in city centers, which also leads to air pollution."