HHLA Orders Automated Ship to Shore Container Cranes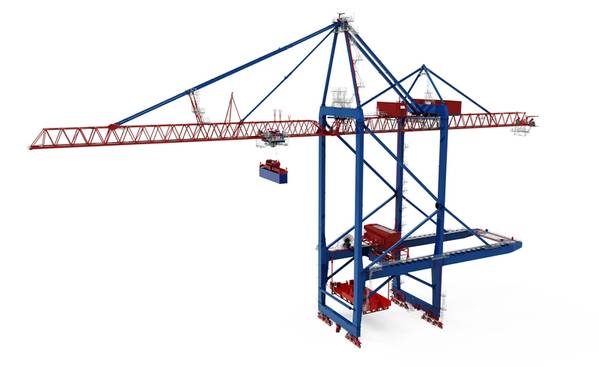 Liebherr Container Cranes has sold three large dual trolley ship to shore container cranes (STS) to Hamburger Hafen und Logistik AG (HHLA) for use at their container terminal Altenwerder (CTA) in the Port of Hamburg.
The cranes have a safe working load of 75 t twin lift at an outreach of 61 m, lift height of 53 m, back reach of 24.5 and a span of 35 m.
The cabinless cranes will operate entirely through automation and remote control. Liebherr's automation technology enables autonomous operation for most of the cycle but facilitates remote control via the Liebherr Remote Operator Station (ROS), for pick and place on the vessel, providing operators the same level of control as an on-board operator, but in a comfortable office-based environment, the manufacturer said.
With two trolleys operating on a single crane, dual trolley STS cranes offer increased operational flexibility and efficiency. The primary trolley handles container transfers between the ship and the landside, while the secondary portal trolley can simultaneously handle transfers from the crane to the automated guided vehicles. This parallel operation decouples the landside and seaside operations, reducing wait times and significantly improving vessel turnaround times.
Liebherr's dual trolley ship-to-shore container cranes are designed to minimize energy consumption and optimize operational efficiency. Energy regeneration and capture is a key feature of the cranes and is carried out at both the primary and portal trolley hoist drives, enhancing the power consumption of the crane. The use of advanced automation algorithms further reduces energy consumption per container moved, contributing to a more sustainable and environmentally friendly operation.