Florida Commerce Park Primed for Panama Canal Reopening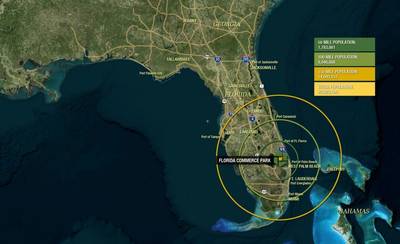 Expansive industrial development moves quickly toward vertical in time for businesses to meet burgeoning trade implications from canal widening.

Skyfarm Strategic Capital LLC (SkyFarm), a Miami-based diversified development and acquisition company, has announced that it has broken ground on Florida Commerce Park, a 100-acre industrial park in Martin County, Florida.
Florida Commerce Park is one of the largest industrial developments in South Florida in recent years, encompassing up to 1.3 million square feet of industrial space. The park, located in Indiantown, is fast-tracked with "permit-ready parcels" so businesses can begin vertical development almost immediately in order to complete buildings by year-end. That timing is prior to the opening of the widened Panama Canal (1st quarter 2016), which will remove a major trade bottleneck between Asia and the US Atlantic Coast — one of the busiest and most lucrative trade routes worldwide. Florida Commerce Park will benefit from a more direct, all-water route from Asia to the East Coast, enabling shipping and trade to bypass "land-bridge" approaches via West Coast ports that combine with long cross-country rail/truck journeys. Florida Commerce Park is within easy driving distance from three major Florida ports — Palm Beach, Fort Lauderdale and Miami — and Florida is also the leading state for US trade with the Caribbean and Latin America.

"Global marine container volume is estimated to triple in the next 15 years, and Florida is expected to be a sizeable recipient of that increased shipping," said Jeremy Shapiro, Director of Corporate Real Estate Development for Skyfarm Strategic Capital. "Florida Commerce Park is in a prime location to capitalize on burgeoning maritime trade, providing significant cost advantages over West Coast alternatives."

The current capacity of container ships transiting the Panama Canal is a maximum of 4,400 twenty-foot equivalent units (TEU). The canal widening will accommodate vessels up to 12,600 TEU. These "post-Panamax" vessels are anticipated to carry up to two-thirds of total global container ship capacity by 2030, according to Florida Trade and Logistics Study, conducted by the Florida Department of Transportation and Florida Chamber Foundation. Post-Panamax vessels require 48 feet/50 feet of draft in salt water/fresh water respectively, but the study noted that only Miami, Norfolk, Baltimore and New York have channels dredged sufficiently and with large enough berths and cranes required for the post-Panamax vessels.

Florida Commerce Park is not only located a mere 90 miles from Miami's port but is also situated at a crossroads of commerce in South Florida, providing superior logistical advantages. The industrial park is located adjacent to CSX's main rail line and critical intermodal state roadway systems, and it's in a secure, inland location. The park also features exceptional broadband capacity and was honored nationally as a Smart Rural Community with high-tech readiness and a redundant ITS Telecom underground fiber network. Furthermore, the park will have uninterrupted clean energy sources that are ready and redundant, which includes the largest solar-thermal power plant in the eastern U.S., operated by the adjacent Florida Power & Light plant.

Shapiro noted further compelling trade motivators that were reported in the Florida Trade and Logistics Study and will positively impact Florida Commerce Park:
US logistics costs are less than many other major trading nations, including China and India, and overall costs have halved since 1980. While most of that decline is due to lean manufacturing and just-in-time delivery systems, ocean carrier rates have decreased or remained flat over the past decade, making water transportation more economical vs. other modes;
Some US companies are considering "re-shoring," i.e. shifting production and supply chains back to the US. These include companies such as Apple, Wal-Mart and General Electric;
Many major US cargo movers are now pursuing "four corner" strategies, locating distribution centers in the Northeast, Southeast, Northwest and Southwest; Florida Commerce Park can ideally satisfy Southeast location requirements;
Rising energy prices and shifting consumer and business demand in higher-income nations are increasing the importance of sustainable logistics practices. Florida Commerce Park is geared toward sustainable best-practices.
• broadband • Caribbean • East Coast