Fitch Assigns 'AA' to Massport Bonds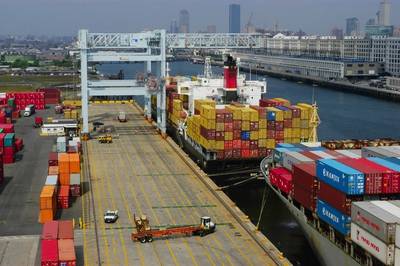 Fitch Ratings has assigned a 'AA' rating to the Massachusetts Port Authority's (Massport) approximately $460 million series 2019-B and C senior lien revenue bonds. The Rating Outlook is Stable.

Key Rating Drivers
The 'AA' revenue bond rating reflects a very strong revenue risk profile anchored by the solid Boston service area, which has supported Logan Airport's (the airport) large, resilient traffic base of over 19 million enplanements and the Port of Boston's (the port) stable container and cruise activity. The rating also reflects Logan's role as a strategically important regional airport with minimal carrier concentration, low competition, and robust service offerings. Massport's strong cost recovery framework and Logan's competitive cost per enplanement (CPE) levels are supportive of the overall financial profile even with additional capital-related borrowings of approximately $640 million over the next five years. Fitch calculates average debt service coverage ratios (DSCRs) at 2.5x while leverage levels remain low at below 5.0x under Fitch's rating case projections.

Strong Airport and Port Activity - Revenue Risk (Volume): Stronger
Massport benefits from a robust service area that underpins its strong aeronautical and maritime operations. The airport's traffic base contains mostly origin and destination (O&D) passengers with exhibited low volatility enhanced by a well-diversified carrier mix between both domestic and foreign flag carriers. Despite the presence of nearby competing airports, Logan is the dominant airport in the region due to its wider breadth of service offerings. The port's main business lines consist of container and cruise, which have had relatively stable volumes over time.

Well-Structured Cost Recovery Framework - Revenue Risk (Price): Stronger
Massport's charge-setting framework with airlines and maritime users allows for strong cost recovery and flexible control of facilities. Together, aeronautical and port revenues cover the majority of Massport's operating and debt service costs, with the remainder supported by the airport's healthy commercial revenue streams. Logan's CPE has remained in the $13 to $15 range, which is comparable to that of other large-hub airports, and expected to remain competitive.

Manageable Needs, Some Borrowings - Infrastructure Development and Renewal: Stronger
Massport's facilities are well maintained and are supported by a strong infrastructure development program. The five-year (FY 2019-2023) capital program totals $4.4 billion. Massport's $2.6 billion funding of the program is manageable and is expected to be approximately 47% financed with proceeds from future revenue bond issuances and prior bonds. The remaining 53% will be financed via passenger facility charges (PFCs), grants, customer facility charges (CFCs), and other internally generated funds. $1.8 billion of capital needs will be funded by third party non-recourse sources. While short-term and long-term needs are well-defined, the demand-driven nature of the plan affords some flexibility to adjust the timing and scope of projects as necessary.

Conservative Debt Structure - Debt Structure: Stronger
Massport's debt structure is conservative, with all fixed-rate, fully-amortizing senior debt and a declining debt service profile. The debt has strong structural features, evidenced by cash-funded debt service reserve funds and a solid rate covenant and additional bonds test. The authority has the ability to issue additional variable-rate bonds, but floating-rate exposure is expected to remain minimal.

Financial Profile
Massport benefits from a diverse stream of operating revenues and has historically maintained strong operating margins and substantial generation of excess cash flow for capital projects. Airport properties have historically comprised the majority of Massport's revenue profile at over 80%, with port properties at roughly 14%. For fiscal 2018 (ended June 30) Massport currently has low leverage of roughly 1.9x while forward-looking leverage is expected to remain below 5.0x under Fitch's rating case despite additional planned borrowings. Debt service coverage ratios continued to strengthen in fiscal 2018 at 3.4x and are expected to remain robust under Fitch's rating case, averaging 2.5x.

Peer Group
Comparable airport peers with 'AA' category ratings include Los Angeles International Airport and Port of Seattle. LAX, SEA and Logan all serve as large-hub facilities with strong revenue risk profiles, competitive airline costs, and healthy financial metrics. Massport's overall credit position remains higher due to expectations of lower leverage levels and stronger coverage metrics as their capital program advances with additional borrowings.

Ratings Sensitivities
Developments That May, Individually or Collectively, Lead to Negative Rating Action:
--Volatility in aviation and maritime operations or significantly more debt than currently expected, which increases general revenue bond leverage above 8x on a sustained basis.

Developments That May, Individually or Collectively, Lead to Positive Rating Action:
--Massport's general revenue bond ratings are capped at 'AA' given the airport sector's operational and financial reliance on its airline counterparties, which generally exhibit weaker credit quality.

Transaction Summary
The series 2019B-C revenue bonds are being issued to further Massport's FY19-23 capital program, primarily at Boston Logan, including funds for Terminal E modernization, Terminal B&C optimization, as well as some projects at Conley Terminal.

Credit Update
Performance Update
Enplanements at Logan continued to exceed Fitch's base case expectations in fiscal 2018 and year-to-date fiscal 2019, with 6% growth over the prior year. This reflects notable passenger growth from low cost carriers as well as continued expansion of international service. Specifically, international enplanements have grown at an impressive five-year CAGR of 10%, allowing foreign flag service to grow over 14% of passenger traffic in 2018 from 10% in 2013. Airline revenue growth performed in line with Fitch's base case expectations for fiscal 2018 and is conservatively estimated to achieve 4% growth in FY2019. Actual non-airline revenue growth outperformed the base case in fiscal 2018 as a result of traffic outperformance with actual enplanements increasing by 5.4% compared to the 4.5% projected in the base case. Operating expense growth for airport properties in FY2018 was below base case forecasts as a result of continued prudent expense management.

Port properties revenues increased 11% in fiscal 2018 mainly due to container volume, increased rates and fees, and higher cruise activity. The number of cruise passengers increased by 15% in FY2018, continuing to prove the city of Boston as both a desirable embarkation and destination port. The port's container business saw high growth in fiscal 2018, despite ongoing competition in the region from other ports. Container revenue and volume in TEUs grew by 14% and 10.4%, respectively, and comprise the largest portion of overall port property revenues, with the next largest contribution from real estate leases. The port's container and real estate business has historically been more stable than its cruise, auto, and bulk operations, resulting in overall positive trends in port revenues despite some volatility in smaller port business lines.

Massport's capital plan is expansionary and demand-driven in nature and mainly focuses on accommodating additional growth by means of additional parking spaces, international gates at Terminal E and optimization of Terminal B space. The five-year capital plan spanning FY 2019-2023 is approximately $2.6 billion, an increase of about $200 million since the FY2018 plan. Approximately 47% of the CIP is funded through debt (consistent with last year's plan), requiring approximately $643 million of future additional borrowing through 2022, including newly planned debt issuance in outer years. Massport retains a modular capital plan which allows for flexibility in project management and the ability to postpone projects in the event of an unforeseen decline in performance.

Forty-six percent of the CIP is funded from internally generated funds or pay-as-you-go (pay-go), equating to an average of $240 million per year. Fitch considers these pay-go funding levels achievable given Massport's sizable revenue base and ability to generate significant free cash flow after payment of debt service and operating expenses. The authority has been able to accumulate sizable cash balances to fund capital needs, with estimated balances at fiscal year-end 2018 of $207.4 million in the maintenance reserve and $304.4 million balance in the improvement and extension fund. While future liquidity may decline from these levels to fund capital needs, these significant cash balance levels result in low leverage (net debt to CFADS), providing significant headroom for leverage to evolve upwards before credit quality is compromised.

Fitch Cases
Fitch's base and rating case include $643 million par of additional pro forma debt through fiscal 2023, with all new money issuances supported by cash-funded debt service reserve funds. Both cases assume no draws on fund balance for pay-go CIP needs, given sufficient excess cash flow. Annual debt service increases from $113 million in FY2019 to $214 million in FY2023 given future debt issuances. In the base case, enplanements grow at a 2018-2023 CAGR of 2.1%. Concession and parking revenues roughly track enplanement growth at a five-year CAGR of 1.0% and 1.8%, respectively, with parking growth slightly higher as a result of planned rate increases in 2020 and 2021. Total airport revenue growth of 4.3% is below the airport expense CAGR of 4.8%, as a result of new facilities coming into service, the addition of staff in certain operational areas, and higher anticipated electricity costs. Port revenues and expenses grow at 4.5% and 3.2% CAGRs, respectively, considered conservative in comparison to recent historical trends.

Fitch's rating case includes a 5% decline in enplanements during fiscal 2020 followed by a partial recovery (CAGR through 2022 of 0.8%), reflecting Fitch's view that Massport's mature air service area should result in modest future volatility. In fiscal 2020, concession and parking revenues both decline due to their correlation with enplanements, but rebound with enplanement growth rates thereafter. Port revenues decline by 13% in fiscal 2020 with a partial recovery thereafter. Airport and port expenses subsequently are held flat at 4%-5%. Total airport revenues grow at a lower rate than the base case at a 3.8% CAGR, with port revenues growing at a conservative 0.4% CAGR.

Fitch's base case yields an average DSCR of 2.6x and fiscal 2023 leverage of 3.6x. Fitch's rating case yields a lower but still strong average DSCR of 2.5x and higher fiscal 2023 leverage of 4.5x. CPE increases to a maximum of $20.11 in the base case, and $21.39 in the rating case. Fitch assumes that Massport will manage to maintain a sustained DSCR of above 2.0x, in line with historical precedent. Fitch does not view Massport's rising CPE negatively, as CPE levels typically increase as airports expand international service and Logan's airline costs remain competitive in comparison to other large-hub airports. Massport's credit is well aligned with its 'AA' rating, evidenced by leverage levels, which remain well below the 'AA' category indicative threshold of 8.0x for airports with stronger revenue risk attributes.

Asset Description
The Massachusetts Port Authority was established in 1956 by the Commonwealth's legislature to manage and finance transportation facilities in the Boston metropolitan area. Massport operates the Logan International Airport (BOS), which is the primary commercial airport for the New England region. In addition to Logan, the authority also owns and operates Hanscom Field (reliever/general aviation facilities 15 miles north of Boston) and Worcester Airports.

Security
Massport's revenue bonds are secured by the net revenues generated from port authority properties, including Logan International Airport and various maritime facilities within the Port of Boston.



• airline • Conley Terminal • Fitch Ratings Ltd.