Euroports Germany opts for Liebherr at Rostock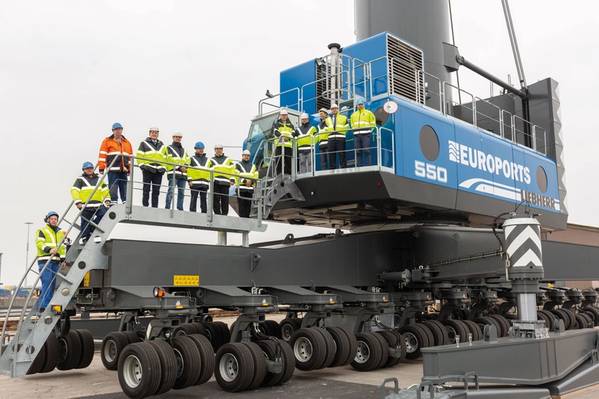 Liebherr Maritime Cranes has delivered the first out of two LHM 550 to its neighbors in the Port of Rostock, Germany.
Euroports Germany wants to increase its turnover considerably with the new cranes. Liebherr succeeded in finding a tailor-made solution for the requirements of the Euroports.
Euroports is one of the largest port infrastructure companies in Europe. Euroports develops, operates and manages global maritime supply-chain solutions for international customers in target industry sectors. With a network of 26 port terminals in Europe and Asia, the company handles more than 60 million tonnes of bulk, breakbulk, liquid and containerized goods.
Liebherr and Euroports have a business relation for more than seven years. Liebherr mobile harbor cranes of different sizes were in operation at the Leftbank of Antwerp for Euroports Belgium. In 2018, Euroports Germany decided to opt for two LHM 550 in order to increase the turnover at the multipurpose terminal in the Port of Rostock, Germany. One of the two cranes was shipped fully assembled in mid-December the heavy load carrier "Meri" from the Liebherr plant to the 500 metres distant pier of Euroports.
Universal All-Rounder
Both cranes LHM 550 come in a two-rope configuration. With a maximum lifting capacity of up to 144 tonnes and a maximum outreach of 54 meters, the cranes will be the strongest mobile harbor cranes in the Port of Rostock. The machines will be used for various applications like project cargo, bulk and containers. The difficult conditions at the Euroports pier were a challenge in the configuration process. In order to comply with the prescribed ground pressures, Liebherr has found a customer-specific solution with specially adapted double supporting pads.