Derecktor Ft. Pierce Spruces Up Spoil Islands, Highway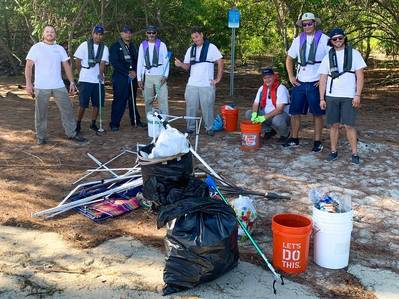 Derecktor Ft. Pierce put trash in its place July 27 as part of the 12th Annual Treasure Coast Waterway Cleanup.

A group of nine volunteers from DFP did their part to thoroughly clean two of Fort Pierce's more popular spoil islands and a stretch of highway along North Causeway Drive near Stan Blum Boat Ramp.
The small, but mighty group removed 250 pounds of trash in three hours, a haul that included: two plastic 55-gallon drums, a large beach umbrella, a pop-up canopy frame and beach chairs. The group also filled a couple oversized trash bags to the brim with everything from plastic bags and pieces of Styrofoam to aluminum cans and glass bottles.