Conley Box Terminal Breaks TEU Record Again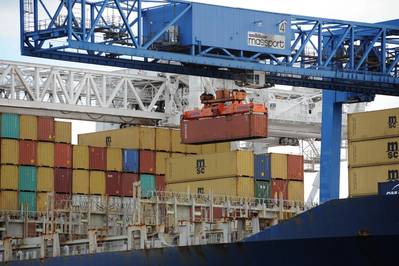 The Port of Boston's Paul W. Conley Container Terminal set a new all-time record in 2018 for volume for the fourth year in a row.
The Port of Boston is the main artery of Massachusetts' consumer economy, with imports and exports serving as vital catalysts for growth, investment and opportunity. More than 1,600 businesses across New England use the Port of Boston for importing and exporting goods.
Conley Terminal handled 298,036 TEUs during 2018, serving as an efficient alternative to other U.S. East Coast ports for New England cargo. The consistent growth in 2018 can be attributed to the strong regional economy, higher levels of productivity, the surge of imports in advance of pending tariffs, and the ease of doing business through an efficient and virtually congestion-free terminal.
Massport is investing in waterside and landside infrastructure to keep Conley Terminal competitive. The Boston Harbor Dredging Project is a $350 million partnership between the U.S. Army Corps of Engineers, the Commonwealth of Massachusetts, and Massport. The maintenance dredging of the inner harbor was completed in December of 2017. The deepening of the main ship channels began in July 2018, to accommodate the large container vessels calling today and in the future. Massport ordered three new ship-to-shore cranes, 160 feet high with an outreach of 22 containers wide to be delivered in late 2020. In addition to the new ship-to-shore cranes, Conley Terminal improvements include the construction of two 50-foot berths, expanded reefer storage, and new in-and-out gate facilities. Conley Terminal's plan is in place to be big ship ready and to welcome larger ships to the New England market.
Conley Terminal, which is owned and operated by Massport, is the only full-service container terminal in New England and serves nine of the top shipping lines in the world: Mediterranean Shipping Company (MSC), China Ocean Shipping Company (COSCO) Group (including OOCL), Evergreen Marine Corporation, Ocean Network Express, Yang Ming Marine Transport, Hapag-Lloyd, CMA CGM Group (including APL). The containerized cargo that passes through Conley Terminal includes seafood, beverages and spirits, furniture, apparel, and recycled fibers.
Each year, more than 1.9 million metric tons of cargo passes through Massport's terminals in the Port of Boston, which provide the shipping facilities New England needs to compete in the global economy. Located in South Boston, Conley Terminal moves New England's goods to market with speed and efficiency, ensuring that the region's consumers have the products they need, when they need them.