Amsterdam Port Post Record Profit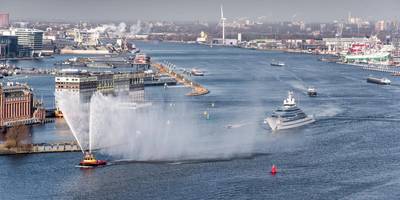 Port of Amsterdam realised net profit of EUR 68.5 million in 2018, which represents a 12.5% increase compared to 2017 (net profit of EUR 60.9 million).

Revenue rose slightly in 2018, rising 5 percent to EUR 157.4 million, primarily due to a record amount of land allocations totalling 45.1 hectares (2017: 18 hectares) and an increase in harbour dues owing to a record level of transhipment totalling 82.3 million tonnes of cargo (2017: 81.3 million tonnes).

The annual figures show a financially healthy position for Port of Amsterdam, which is benefitting from the favourable economic climate. The added value of the port increased by more than 4 percent to EUR 7.2 billion and port-related employment rose by more than 2 percent to 68,399 jobs.

A striking aspect of the revenue from land allocations is the large share of square metres allocated through ground lease to companies that have bio-based and circular activities. More than 20 percent (9.1 hectares) of the 45.1 hectares of leased out land was allocated to these types of companies (2017: 2 percent), such as two companies that convert plastics into new raw materials.

Transhipment in the port of Amsterdam grew to a record amount of 82.3 million tonnes in 2018. The North Sea Canal Area also saw transhipment reach a record volume of 101.8 million tonnes. In addition, 2018 was a record year in terms of the number of ship calls.

The number of sea shipping movements in the North Sea Canal Area increased by 7 percent to 17,952 (2017: 16,813). Cruise ship calls rose to new heights, with 180 sea cruise ships and 2,007 river cruises calling at Amsterdam in 2018.

Approximately 27 percent (an increase of 7 percent) of the ships received the environmental discount on harbour dues. Our own footprint decreased by 25.6 percent, which is also a record. The number of installed solar panels in the area increased by 50,024 m2 in 2018 and currently stands at a total amount of 55,000 m2. Port of Amsterdam's investment level amounted to EUR 53.3 million, which is 40 percent higher than in 2017 (EUR 31.9 million).

The port of Amsterdam plays an important role in promoting and achieving the sustainable ambitions of the city and metropolitan region. Port of Amsterdam is also investing in creating sustainable added value for the city and region in 2019. Sustainability and room for business continue to be focal themes in this context.