Kathryn Chaffee
Student, Webb Institute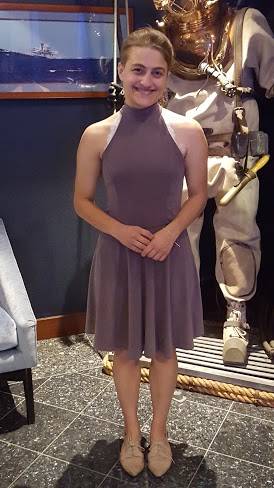 MarPro's Future Leader Series
Kathryn Chaffee
Webb InstituteGraduation Year: 2016
Why this school?
I suppose I was first drawn by the overall concept of Webb. Webb is nothing if not unique. I appreciated this. Moreover, I was intrigued by the experiences I stood to gain: close interactions with students and professors, a winter at sea, four years of athletic participation, etc. Really though, the concept of a school devoted to ships was enough. 
What keeps you here?
The firm belief that Webb is where I am meant to be. Enduring confidence in a decision is a powerful thing. Mine has reassured me even in my late-night, work-ridden moments of doubt. The work brings with it a sense of satisfaction and pride that helps root me as well. To all of this, I would add "a sense of loyalty" and "anticipation of future opportunities." The Webb web of professionals brings a seemingly endless supply of opportunities. 
What is your major and what career do you intend to pursue?
I am majoring in naval architecture and marine engineering. For several years now, I have been captivated by marine salvage and emergency response. I intend wholeheartedly to explore this world after graduation.
What one thing should prospective employers know about you?
I have a strong work ethic, an appreciation for quality, and a distinct sense of professional loyalty. I am no stranger to late work nights and am devoted to my work. Organization and quality within a company go a long way with me, and I make sure my work displays these characteristics. On a less formal note, I have a personality and a fear of extensive time behind a desk. An employer would see both things, the second in my enthusiasm for any and all kinds of fieldwork. 
Tell us about your at sea training or internships – who did you work for or sail with?
I have worked a total of four internships. Company-wise, I have worked for Nichols Brothers Boat Builders, Maersk Line, Limited, Martin & Ottaway, and Resolve Marine Group. I spent my time with MLL sailing as an engine cadet aboard oil tanker Maersk Peary. I spent a total of ten weeks on the Peary and eight weeks with each of the other companies.