Frank Guenzerodt
President and CEO, DACHSER USA Air and Sea Logistics Inc.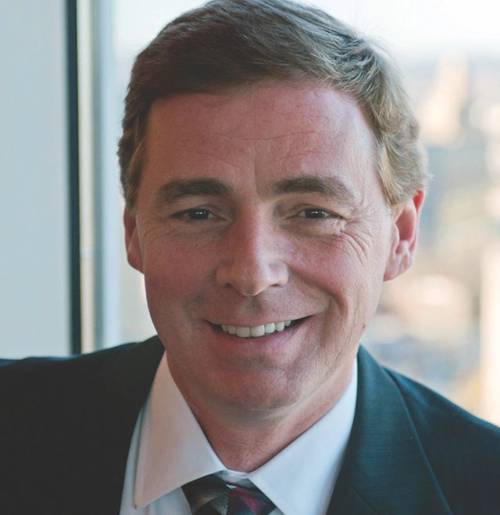 By Jim Romeo
The finesse of supply chain management in today's global climate is certainly different than it was just a few years ago. Supply chains are more complex and these operations and management structure form a critical ingredient in the business strategy of every company, no matter they reside in the greater global economy. Gone are the days of staid, backroom staffers who worked as traffic managers and were more reactive to the flow of goods across many challenges.
Today's supply chain seeks a lean and efficient operation, driven by leadership that is mindful of a global network of operations that must insure on-time delivery and protection of shipments to arrive intact and according to schedule. DACHSER USA is one such logistics firm seeking to take on all modern challenges of keeping the supply chain moving sufficiently. Behind its operation is Frank Guenzerodt, President and CEO, DACHSER USA Air and Sea Logistics Inc. 
Guenzerodt oversees the company's U.S. logistics network of branch offices and its services. Since joining the corporation in 2004, he has led the company's strategic growth program to increase its footprint in the United States, along the way providing greater reach and value for customers. Under his leadership, company revenue expanded from $11 million in 2004 to $120 million in 2011, and over $192 million in 2015.  
Guenzerodt expects more revenue growth as he positions the company to gain market share in different vertical industries, expands its footprint in key U.S. regions, strengthens its U.S. infrastructure and capacities, and opens new office locations to support business expansion. With over 30 years of transportation and logistics management experience, Guenzerodt is an opinion leader for the logistics industry and frequently consulted with by media outlets and other organizations for insight.  
Prior to DACHSER, he held management positions at multinational freight forwarders, including the U.S. headquarters of a Belgium-based forwarding and logistics company where he was tasked to lead all U.S. operations. Listen in as DACHSER's Atlanta-based Frank Guenzerodt provides his take on today's global logistics industry, where it is heading, how, and why:
Can you provide an overview of your organization and its role in supply chain logistics?
DACHSER is one of the global leaders in supply chain logistics. Combining its seamless, global transport network, with warehousing, customer-specific services and exemplary IT solutions, DACHSER creates the most intelligent combination and integration of logistics network competences worldwide. With a staff of 26,506 employees at 428 locations in 43 countries, DACHSER generated revenue of EUR 5.64 billion (USD 6.25 billion) in 2015. The family-owned logistics service provider handled 78.1 million shipments with a tonnage of 37.3 million tons. Founded in 1972, DACHSER USA Air and Sea Logistics Inc. is the U.S. subsidiary of DACHSER SE. DACHSER USA, and is headquartered in Atlanta, with branch offices in Atlanta, Baltimore, Boston, Charlotte, Chicago, Cincinnati, Dallas, Houston, Los Angeles, Memphis, Miami, Minneapolis, New York, Phoenix and St. Louis. DACHSER USA offers optimal access to international markets and ensures seamless integration of all import and export activities via air or ocean to and from Europe, Asia and South America.
How has your organization changed in the recent past to adapt to the changing demands of the logistics market?
Our organization in the United States has been on a path of strong growth over the last few years. For most countries, the U.S. is the number one or number two trading partner, and therefore we need a strong network in the U.S. to support our growth worldwide. Our plan is to have 25 offices nationwide by 2020. In the meantime, we have also expanded our product offerings to complement and complete our service portfolio. We now offer warehouse management services in the U.S. and have been building up our domestic freight forwarding. Ongoing development and investments into IT solutions are a requirement to successfully manage the intricate and detailed solutions for our customer's supply chain challenges.
From your perspective, what are your greatest challenges in the world market for logistics that your firm faces?
The markets are becoming more and more volatile; overcapacities and lower volumes, especially in ocean freight, are putting carriers under pressure. Availability of trucks and chassis across the U.S. to perform import door deliveries, and export door pickups, continue to be a major concern. The truck driver shortage will also get worse over the next few years. This will increase truckers' costs; hence shippers' rates will rise. Supply chain disruptions and delays have to be anticipated on behalf of our customers, and proactive corrective solutions must be readily available and planned in advance. Customers demand a holistic service from a single source with a central contact person, constantly monitoring the supply chain, and ensuring high quality standards. Close cooperation with the customer is vital to successfully manage the logistics and supply chain solutions proactively.
What advice would you give to others forward of you in the supply chain? How about those behind you in the supply chain?
The ability to manage the complete supply chain requirements for customers is becoming more and more important. One can employ other service providers, but the overall coordination of logistics needs to be handled by the provider to successfully execute solutions. Close interaction with the customer is essential for success and a quality operation.
What are some misconceptions about managing for success in the global logistics market?
One misconception is that complex situations can be easily simplified, but we have to approach them with a complex set-up on our side. The world of logistics is highly interconnected and complex. We don't just rely on technology for supply chain design. Uniform IT systems are vital to ensure the global flow of data across all interfaces, but our people have to analyze and interpret the data and therefore are our most important asset. They have to think outside of the box and be creative to find the best solutions for our customers. Additionally, disruptive events such as port strikes, natural disasters or quickly changing market conditions must be managed, but cannot always be immediately overcome 100 percent of the time.
Do you feel regulations – either those instituted by the United States, or those from world organizations are overly burdensome? How do you feel regulations governing supply chain logistics could change?
Worldwide regulations are necessary and we make sure that we – and our customers – fully comply with them. Over the next years more and more regulations will be added making it even more important for shippers to have a good partner who can help them navigate. Many of the regulations are focused on supply chain security and unfortunately necessary in today's world. A detailed and accurate process design will help in dealing with such regulations smoothly.
What about cyber security? Do you think it's something that shippers as well as other supply chain firms need to be engaged in? If so, what are the most important steps to be sure are taken ahead of time?
Yes, cyber security is definitely a topic that shippers and 3PL companies alike all need to be engaged in. Our industry depends on a high amount of worldwide data sharing and exchange. Logistics companies have always relied heavily on IT. A secure IT infrastructure is needed to protect data from cyber attacks and make sure Internet applications are secure. Standardized IT security policies and processes need to be in place to ensure full data integrity. Safeguarding our customers' information has a very high priority for us. Data exchanges between the various entities in a supply chain must be handled in an encrypted and secured environment. And last, but not least, safeguarding data also enhances the security of a supply chain. At DACHSER all centralized server components, network connections and business-critical IT components are housed in a secure data center in order to ensure operational and data security.
In your opinion, what are some of the greatest encumbrances to your business and its efficient operation?
Talent acquisition and retention. With our staff being the most important asset we have, we have to make sure we hire the right people and continue to educate and motivate them. The business has become much more sophisticated over the years and requires a higher level of knowledge for the people involved in designing and implementing supply chain solutions. It's not just moving a shipment from A to B anymore. Our customers' supply chains are exactly timed, so they need a reliable modern supply chain process, which needs to be managed by logistics experts.
(As published in the Q4 2016 edition of
Maritime Logistics Professional
)