Fazel A. Fazelbhoy
CEO, Topaz Energy and Marine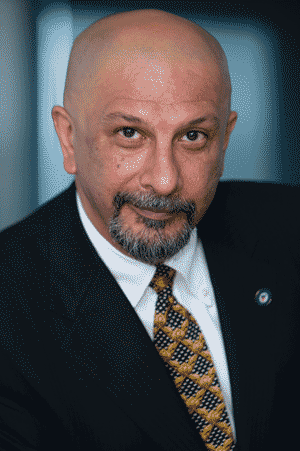 How did you become involved in the offshore industry?
After graduating from New York University (NYU) and working for Honeywell in the power and automation business in the U.S., U.K. and K.S.A., I joined Topaz Energy and Marine in 2000. Since then I've held positions primarily with our engineering businesses and at the corporate office. Topaz has been active in the offshore support vessel (OSV) business since 1988 and has grown into a leading regional OSV owner and operator with over 100 vessels in our fleet.
What do you think is the outlook for your segment of the market?
The global financial crisis was no doubt detrimental to the overall shipping and oil and gas industries in 2009. Shipping is dependent on global trade, transporting industrial and consumer goods from one continent to another. In fact, 99.3 percent of all goods coming in to the U.A.E. come by seafreight by primarily tankers, bulkers and container vessels. These three vessel segments have been, and remain under pressure due to lower demand and an oversupply situation fuelled by speculative new-build programs.
The OSV sector of the industry that Topaz Energy and Marine operates in however, is the relative bright spot of shipping. OSV-operators serve offshore oil and gas fields often operated by blue-chip oil majors. The market is continuously growing as a result of the increasing importance of offshore oil and gas versus more traditional onshore fields. Brazil's Tupi field and Kazakhstan's Kashagan field are prime examples. Both discoveries changed the oil and gas map and elevated both the Caspian basin and Brazil's deepwater basins to superstardom in the hydrocarbon patch.
The OSV sector has also been affected by the crisis with reductions in dayrates and softening demand, although not nearly as significant as other shipping sectors. The OSV sector is more closely tied to the exploration and production (E&P) spend of international and national oil companies. With a projected 2010 oil price of over $70 a barrel and global E&P spend to increase by approximately 10 percent, we believe that there is still opportunity for growth for progressive OSV-operators with modern, high-spec fleets with exposure in the right geographies. Therefore, at Topaz, we remain cautiously optimistic about the industry's prospects in 2010.
What technological advances are you seeing in the OSV arena?
Vessels using alternative diesel-electric and diesel mechanic hybrid systems are increasingly being developed and designed. I believe that this clean-tech tonnage will prove to be energy and cost efficient in future years. Further advances are selective catalytic converters for main engine exhaust gas which will further reduce emissions and with new technology being developed for underwater exhaust release the future is greener as these incentives will greatly reduce the emissions to air.
The advantages of LNG powered systems are not new and have been proven to reduce NOx and CO2 emissions by as much as 80 percent and 20 percent respectively, while increasing fuel efficiency by about 10 percent. The disadvantage is the requirement for large vertical storage tanks and the need for vessels to be adaptable with dual systems resulting in larger and more expensive tonnage.
What type of vessels does Topaz operate?
Topaz operates a modern and technologically advanced fleet comprising anchor handling tug supply vessels, platform supply vessels, emergency recovery and response vessels, survey vessels, cable lay vessels, crew boats, ice breakers and specialized barges among others.
The territories in which we operate govern the way our fleet is constituted. For example, our fleet operating in the Kashagan field in Kazakhstan is dominated by specialized ice-strengthened barges simply because of the extremely low-water depth and very cold climate of the Kashagan field. Conversely, in Azerbaijan's relatively deep-water we operate two of the largest anchor handling tug supply vessels in the Caspian, each with 15,000 bhp and bollard pull of 170 tonnes.
What is Topaz's competitive advantages in your OSV operations?
The diversity, high specifications and low average age of the fleet is one of Topaz's main competitive advantages. Our fleet upgrade and modernization program has brought the overall average fleet age down to 7.6 years and this will continue to drop in 2010. This is significantly lower than the global average of 14.2 years.
Topaz boasts an admirable long-term HSE track record and in 2009, no Lost Time Incident (LTI) was recorded. This achievement is the result of conscious efforts to drive the safety culture of the company to the frontline staff both onshore and offshore. Working with world-leading oil majors in all markets, we have adapted our HSE policies and procedures to always adhere to international best practices. Our extensive work with IMCA (International Marine Contractors Association) has also contributed to new concepts in maritime safety and security being implemented across our fleet.
To connect back to your technology related question, ever safer OSV operations is the result of an unrelenting focus on HSE issues amongst leading owners and charterers, however these important issues are also assisted by technological advances such as dynamic positioning (DP) capable vessels which are increasingly becoming the standard within the industry. HSE initiatives high on Topaz's agenda are safe anchor handling systems which negate the requirement for our personnel to enter the "line of fire" in the historically hazardous operation of retrieving and deploying anchors.
All new Topaz tonnage in the MENA region is equipped with class compliant dual electronic chart display and information system (ECDIS) for safe navigation. One of our newest vessels, the Topaz Fujairah, is fitted with a night-vision camera increasing safety and allowing it to undertake rescue operations when required.
The quality of our mariners is also something I would like to mention as a key differentiator. The global shortage of seafarers is well documented and I think the way that we approach recruitment, training, HSE, shore leave rotation and competitive reward structures have given us the edge in being able to attract and retain great people.