Bjarne Foldager
Vice President, Sales & Promotion, MAN Diesel & Turbo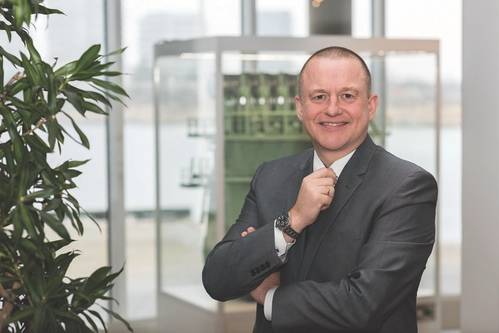 By Greg Trauthwein
When Bjarne Foldager, MAN Diesel & Turbo's Vice President, Sales & Promotion, joined the company about one year ago, he replaced an industry icon, Ole Grøne, a ubiquitous figure at MAN D&T who after 40 years has transitioned to an advisor role with the company. We caught up with Foldager in his Copenhagen office to discuss emerging market trends from the perspective of the global marine power leader.
Please provide a brief background, with details of your current position.
My direct area of responsibility is sales and promotion of two-stroke engines (for marine and power plants) and marine gensets. The headquarters is here in Copenhagen, but we have representation in all of the big shipbuilding countries, South Korea, Japan and China; as well as good representation in the countries where the ship owners are based. I joined the company in September 2016, and before that I worked for a big Danish ship owner for 25 years in many different roles.
What attracted you to the position at MAN D&T?
Many things attracted me. It's an interesting company with an amazing history that tracks back more than 250 years. The products have changed many times over, but some of the values remain the same: building new products that surpass the expectations of the customer, a real 'yes we can' attitude. It is an entrepreneurial company, a high technology company, a company which throughout its history has traveled the world to stay in touch with its customers and competitors. There are many amazing people working here, and you can find a sector expert on almost any topic here.
So essentially, you are selling to your former self? Was there an advantage coming from the ship owner side?
I'd like to start a little broader, because the licensing business model is fascinating. We do the R&D, design and engineering, but we don't actually manufacture any of the two-stroke engines. This licensing model has enabled a truly global reach versus a straight production business model. But it is important to remember that our customers are not only the ship owners. The license builders are also our customers, because they are the ones that eventually pay the royalties. Our customer is also the shipyards and the ship designer. So this is four distinct groups of customers, and for us to be successful we have to understand the needs of all of these groups..
Which of the four groups of customers, today, are more prominent in the decision making process?
I guess at the moment because the shipbuilding market is down, the ship owners have the upper hand. Many shipyards are hungry for business because the orderbooks are relatively low, and the same can be said for the engine builders. At the moment the ship owners have negotiating power. At the end of the day, it starts with the ship owner. 
It's not just about a lower price, though. We have to make sure that the shipyard is supported throughout the construction of the ship. If there is a technical problem with the engine and there are delays, it can get very costly for the shipyard. We have to support the shipyards, not only with the best technology in the engine but with support throughout the construction process. It's not enough to satisfy only one group of customers.
Obviously many sectors of the maritime market are challenged today. When you look at the market, where do you see opportunity?
Our focus area is merchant ships for two stroke engines: bulkers, tankers, containerships and general cargo ships. In second half of 2016, very few merchant ships were contracted, but in the beginning of 2017 we have seen activity emerging in both the bulker and tanker segments. There have been many 'Letters of Intent' signed, particularly in the bulker sector, and the trick now is turning those LOIs into new orders.
Quite frankly, we have not seen a lot of activity in the container sector, as I think many of the owners are focused right now on the consolidation trend. There are many plans for integration, and in the very large containership sector there is a focus on expansion by merger, so we haven't seen many inquiries for larger containerships.
I think the big question for a lot of ship owners is 'what will happen in 2020?' (and the entering in force of the stricter emission standards from IMO). This is something that could drive an interest in newbuilding, particularly with the orderbook low and prices at an attractive level. The new emission reduction standards entering force in 2020, with the global sulfur level being reduced to 0.5%, is giving ship owners a lot to think about. Fuel costs are the biggest cost to running a ship, and in 2020 their fuel bill will go up. I believe now they are evaluating their current fleet to determine if the fleet is competitive, or deciding if now is the time to invest in a new fleet that are more fuel efficient. 
There has been much talk, and now traction, regarding alternative fuels. What are you seeing?
Owners are increasingly considering alternative fuels, calculating the CAPEX investment versus OPEX reward. While LNG is an obvious choice, we also are seeing interest in Ethane, and we have two of the world's first two-stroke ethane carrier with more than 3,000 hours running. There is a growing interest in methanol, too. Compared to LNG, methanol is relative easy to handle. The MAN D&T two stroke engine can obtain the same energy efficiency with methanol as you can with any other type of fuel. We are also adding LPG to the portfolio as a propulsion fuel. The first two-stroke engine with LPG as its fuel is on the way, and you can expect to see one on the water by 2018 or 2019.
Bottom line, after 2020 ship owners may find themselves in a situation where their current ships are no longer competitive. Those who invest in new energy efficient tonnage could find themselves with a big competitive advantage.
From an MAN D&T perspective, classify the investment necessary in new technology to continually meet evolving regulation and vessel owner demands.
Our job is to help the ship owners to understand which technologies are most beneficial in their specific situation. This all depends on how and where the ship operates; it's about balancing CAPEX versus OPEX. We have the expertise to do these calculations, and help the owner and the shipyard understand which are the best options. That is our job.
Is there one technology that you see taking the lead, looking at 2020?
If I look at our reference list, those with SCR and those with EGR, it is roughly 50/50 right now. Almost every case is different. The Exhaust Gas Recirculation is really interesting (and in the two-stroke sector available exclusively on the MAN D&T engines). EGR reduces NOx to a compliant level – from a Tier II to a Tier III level – by re-circulating the exhaust gas without losing your fuel efficiency. 
That said, it is fair to assume that environmental regulations will get even stricter, a challenge for all. From the MAN D&T perspective, what is the biggest challenge?
The grand theme for us is 'de-carbonization.' The demand for ship owners to reduce CO2 is only going to grow, and we have to have the technology to help them de-carbonize. We can do this through new technologies like EGR, but we can also do this through the introduction of products that run efficiently on alternative fuels.
We also, as a company, made an investment in Aspin Kemp, a leading company in maritime battery technologies. So the question now is how can we combine the use of batteries with big two-stroke engines to reduce the CO2 footprint? You probably will not see a battery replacing a two-stroke engine in the near future, due to its sheer size. But maybe there is a way to combine these technologies. 
Another trend is obviously the move toward better using data to improve operations. What is MAN D&T doing in this regard?
The two big drivers are de-carbonization and digitization. The use of data is opening new business models, as ship owners are requesting ways to reduce the OPEX of the ship, the cost of overhaul, including the prediction of maintenance and parts. That involves extracting and using data to predict things. I think what we need as an industry is a platform, similar to an iPhon iOS if you will, that serves a secure platform to transmit data between ship, shore and service providers, a platform to address cyber security concerns and to deliver applications and algorithms that can help ship owners reduce costs by using predictive maintenance. But it all starts by tackling the cyber security issue.
(As published in the October 2017 edition of
Maritime Reporter & Engineering News
)