Zeamarine Appoints Hugo Trumpy for Italy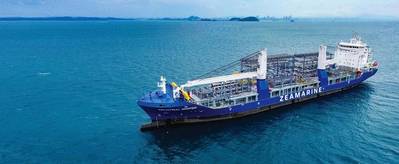 The leading provider of global tramp and liner services for the ocean transportation of heavy lift Zemarine has appointed Hugo Trumpy as exclusive agent for the Italian market.

With more than 100 years of combined experience, Intermarine, Zeaborn and Rickmers-Line have combined and consolidated operations to unite as Zeamarine, a new and trusted industry leader, said a press release.

The JV will have more than 85 vessels and is expected to exceed 100 vessels by year-end. The near-term strategy for the new, one group one company Zeamarine is growth, improved customer service; and a continued search for opportunities to build the business.

Zeamarine operates those multi-purpose heavy lift vessels with deadweight capacities between 6.300 and 30.000 dwat, representing a market share of about 15%. The combined lifting capacity ranges from 80 to 1.400 metric tons.