World Fisheries Congress Opens in Edinburgh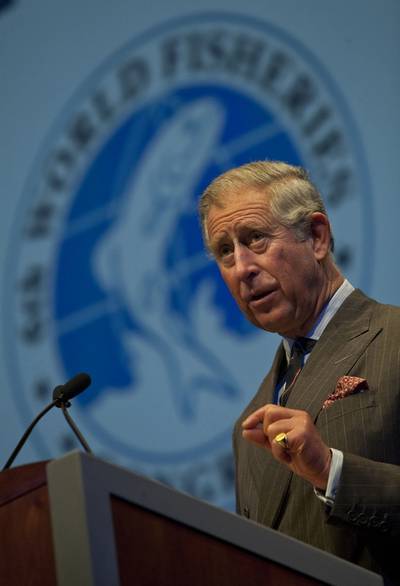 HRH The Duke of Rothesay addressed global fisheries leaders on sustainability.
The world's fisheries community gathered in Edinburgh today (Tuesday, 8 May) to discuss the future of sustainable fishing at the 6th World Fisheries Congress.
Organised by The World Council of Fisheries Societies, the congress is being held at Edinburgh International Conference Centre and will address "Sustainable Fisheries in a Changing World". The event draws leading international figures influential in driving debate and shaping global policy on fishing.
The Duke of Rothesay addressed the conference on sustainability in His Royal Highness's capacity as the founder of The Prince's International Sustainability Unit (ISU). Established in January 2010, the ISU works to build consensus on how to resolve some of the key environmental challenges facing the world, specifically those concerning food security, ecosystem resilience and the depletion of natural capital. The ISU works with governments, the private sector and non-governmental organisations with the aim of building partnerships to help address these challenges.
Key points of interest:

Attending:

• HRH The Prince of Wales (The Duke of Rothesay) delivered the keynote address
• Cabinet Secretary for Rural Affairs and the Environment, Richard Lochhead MSP delivered keynote address
• Parliamentary Under-Secretary for Natural Environment and Fisheries, Richard Benyon MP
• 1,000 delegates from over 65 countries
• 22 keynote speakers from industry, science, fishing and aquaculture
Discussion themes:

current and future issues surrounding sustainable fishing; driving global solutions; science underpins sustainable fishing; management and tools to cope with changing environments; social and economic cost of failure; meeting increased food and nutrition needs through aquaculture

700 speakers, with 106 sessions running throughout the week

Cabinet Secretary for Rural Affairs and Environment Richard Lochhead said: "I am delighted to welcome the World Fisheries Congress to Edinburgh this week. As one of the foremost fishing nations, Scotland is at the centre of international efforts to sustain the world's fisheries. Bringing together leading scientists and experts will provide stimulating and thought provoking discussions, and I look forward to building on our work and exchanging ideas with international partners.

"Fishing is a crucial part of our history, and a vital part of our future. It makes a massive contribution to our economy - last year Scottish landings rose to £500 million, the highest level in a decade. The Scottish Government is committed to doing all we can to preserve the marine environment and to ensure a sustainable, long-term future for the fishing industry in Scotland."

Professor Felicity Huntingford, World Council of Fisheries Society President and Professor of Functional Ecology at University of Glasgow, said: "The 6th World Fisheries Congress is a truly global event that brings together scientists from all discipline areas that cross the freshwater and marine boundaries.

"This year's Congress will investigate the significant role that science plays as the foundation stone to good management and sustainable fisheries, including the increasing importance of aquaculture in the provision of food and nutrition. The overarching aim of the conference is exchange information and promotes discussion of complex and controversial issues, so that knowledge can be shared with a wider audience, and common solutions identified."

Around 30 per cent of world fish stocks are estimated to be overexploited, depleted or recovering and need to be urgently rebuilt. Modern developments in fisheries management as well as in aquaculture fish are together helping to address this issue, contributing to food security, nutritional well-being, poverty reduction and economic development. Aquaculture continues to be the fastest-growing animal food producing sector and now outpaces population growth.

Keynote speakers:


• Professor Ray Hilborn, University of Washington, Seattle
• James L. Anderson, The World Bank's leader of Global Program on Fisheries and Aquaculture (PROFISH)
• Mike Mitchell, Technical Director and Head of Corporate Social Responsibility, Youngs Seafood Company, UK
• Professor Katsumi Tsukamoto, Department of Marine Bioscience, Atmosphere and Ocean Research Institute, The University of Tokyo
• Dr Malcolm Beveridge, Director of Aquaculture and Genetics at the WorldFish Center, Zambia
• Eric C. Schwaab of the US National Marine Fisheries Service

Draft programs, detailing the running order for each day of the WFC (7-11 May), which are available at: www.6thwfc2012.com/scientific-programme/

• Congress • food security • Scotland