ABS' Wiernicki: "COVID-19 will function as threat, a disruptor and catalyst for change"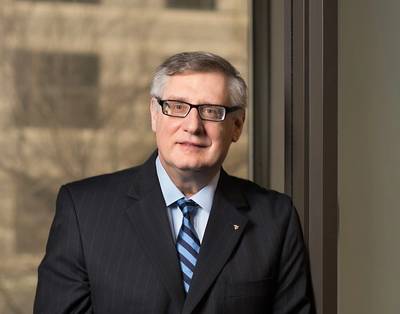 As COVID-19 and a historically weak energy market wreaks havoc on the maritime industry, Christopher J. Wiernicki, CEO, American Bureau of Shipping, tells Maritime Reporter & Engineering News in its May 2020 edition that "COVID-19 will function as threat, a disruptor and catalyst for change, driving class further away from calendar maintenance towards predictive operations. The industry will accelerate its digitally driven movement into condition-based approaches and real-time, risk-based, data driven decision making, developing technologies that enable many of us to do our jobs without being physically present at the work site. In parallel, our regulatory landscape will continue to transform under complex, performance-based, data centric regimes. The reliance on integrated networks, software and data transfer solutions to operate with greater efficiency will increase. Also, digitally powered interconnections between onboard equipment and shore-based systems will further redefine the traditional ship-to-shore interface."

Wiernicki was part of Maritime Reporter's report on 'Class', with participation by the four largest classification societies. The full report from May 2020 will be available online shortly, but until then below is the full text from our interview with Christopher J. Wiernicki, CEO, American Bureau of Shipping.

The COVID-19 pandemic: To start, from your vantage point, put in perspective how this global virus has impacted the maritime market?

The pandemic has highlighted digital's role in driving tomorrow' safety outcomes. The uses of technology in response to COVID-19 contain powerful lessons on digital's potential to drive safety improvement across all levels of an industrial operation, acting as an acid test on a comparatively micro-scale of a vessel to the macro-scale of a global shipping operation.
COVID-19 is a threat, disruptor and catalyst that is essentially reshaping the industry's commercial, security and safety trends. It has put shipping in a 'Time Out' situation. The whole industry is learning and adapting to this new reality on the fly, devising new methods of working virtually and remotely in real-time. Keeping pace with operational changes and clients' needs in the face of the COVID-19 pandemic is rewriting the rules for all of us. The pandemic is driving classification to deliver more condition-based versus calendar-based surveys, and it also is accelerating the modernization and upgrade of SOLAS.
The maritime industry continues its own digitally-driven movement into condition-based approaches and real-time, risk-based, data driven decision making, developing technologies that enable many of us to do our jobs without being physically present at the work site. In parallel, our regulatory landscape continues to transform under complex, performance-based, data-centric regimes. Shipping operations rely increasingly on integrated networks, software and data transfer solutions to operate with greater efficiency. Also, digitally powered interconnections between onboard equipment and shore-based systems are redefining the traditional ship-to-shore interface.
While rapid change is our new normal, we must remember that when faced with unforeseen and unanticipated circumstances, we must not abandon proven solutions. Rather, we should rework our approaches and methods to fit our new reality. We should build from them a self-renewing approach to the future. We should further harness the power of digital technologies to drive safety outcomes while staying alert to the unintended safety consequences that may be introduced as we adopt new ways of working. Strategic thinking centered around technical feasibility, economic viability and sustainability are required now more than ever.
Digital technologies — from data analysis to smart manufacturing and distribution of equipment and supplies — has facilitated the global response to the pandemic in a rapid, efficient manner. This may be the first example of digital technologies having a massive impact on a global emergency response, and certainly indicates the vast potential for digital technologies to fundamentally change our industry and the ways in which business is conducted. We have seen an acceleration in terms of data driven and digital decision making, which was always the cornerstone of any strategy to meet 2030 and 2050 decarbonization targets but is now business as usual for many thanks to adaptations spurred by the virus.
Quite frankly, what we are learning from leading through the COVID-19 situation is the importance and value of risk-versus-risk decision making and leveraging digital technologies to change the dimensions of what we do and how we do it as a means to extend the safety protection frontier.
Today's rapid digital change has been accompanied by an accelerated accumulation of knowledge and insight, which together are reshaping traditional approaches to productivity, decision making and, most importantly, safety. We now know so much more and have the technological capabilities such that it is time to stop thinking of safety as a goal or destination.
Safety must be viewed as a state of being and a living, breathing thing that needs cultivation. An organization's safety regime can no longer be seen as a fortress built on procedures and systems that, once established, provides a permanent shield against disaster. In this world of rapid change, safety is more like a barrier beach, a protective layer against an ocean of risk that needs maintenance and periodic renewal.
What is clear, quite frankly, is that nothing is going to be the same again and we will all face a new normal. The virus is not going away and a new risk environment will endure. And even when there is a vaccine, we certainly cannot put the remote working or remote survey genie back in the bottle.

How, specifically, has it impacted ABS?

ABS is well prepared to weather the storm of the COVID -19 pandemic due to the strategic investments we have made in people, processes and technologies. During times like this, it is helpful to have a clearly defined purpose, and ABS certainly does. Our mission has guided us for over 155 years and is our lighthouse now more than ever. We do everything we can to fulfill it with an unwavering focus on safety, serving our clients and keeping global trade moving.
We continue to focus on protecting the health of our colleagues, clients and members while taking steps to help contain the spread of the COVID-19 virus by introducing enhanced measures to ensure the safety of our employees and continuity of service.
We are doubling down on our commitment to innovating with technology and digital services to respond to the challenges our clients and members face, and on assisting the industry in the new normal we will all face once the mitigation measures are eased.
That is why we have expanded our remote survey options to the extent it is now the most comprehensive set of such services available anywhere, including, for the first time in the industry, the majority of annual class surveys. At the same time, we have launched comprehensive guidance on sanitizing and decontaminating marine and offshore assets exposed to COVID-19. Our ABS Group Consulting subsidiary has also developed a pioneering risk-based framework to help organizations put together a proactive plan to restart operations with enhanced working practices that address the challenges of the business environment that awaits on the other side of the pandemic.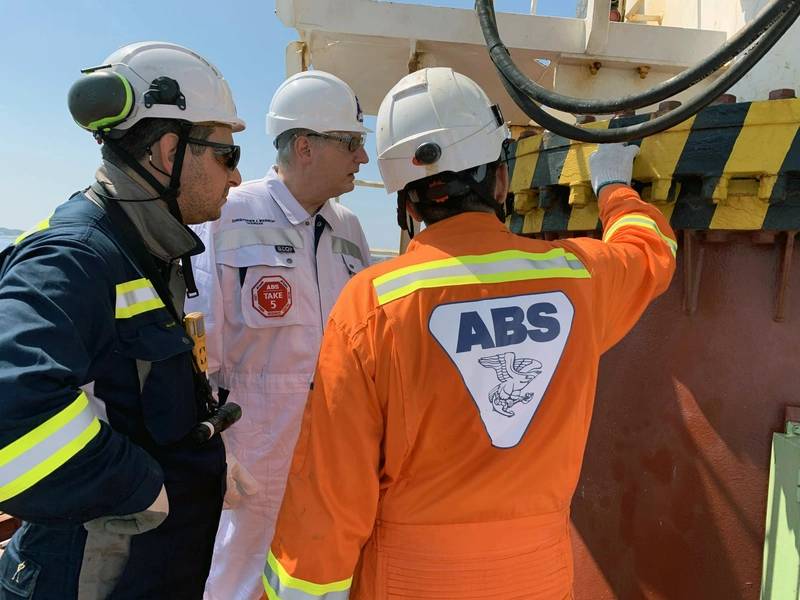 Christopher J. Wiernicki, CEO, American Bureau of Shipping. Photo: ABSMany leaders I interview today say that long-term planning has come down to "the next 24-hours." Discuss how your short-, mid- and long-term planning has evolved.
ABS has been a maritime safety leader since 1862 and we are using all that experience to inform our response to the outbreak. ABS has been through tough times before, and although this is the first in-stance in which we have faced a worldwide pandemic on such a scale, the lessons learned from other crises are still valid today. We are an experienced, capable, and battle-proven organization. I am confident we will emerge stronger.
In the short term, we are focusing on communication internally and connecting with clients digitally to ensure we stay responsive to their needs and find new ways of doing business that adapt to the circumstances we find ourselves in. At times like this when so much feels out of control, it is important to focus on what you can control and so our ongoing focus on minimizing and eliminating unnecessary costs will keep us in good shape while we keep driving forward new technologies and services that respond to the industry's needs.
The long-term plan remains the same as it has since our inception and we are focused on ensuring we are well placed to continue to deliver our mission.

This pandemic will materially impact nearly every industry. How do you see today's situation impacting ship classification?
COVID-19 will function as threat, disruptor and catalyst for change, driving class further away from calendar maintenance towards predictive operations.
The industry will accelerate its digitally driven movement into condition-based approaches and real-time, risk-based, data driven decision making, developing technologies that enable many of us to do our jobs without being physically present at the work site. In parallel, our regulatory landscape will continue to transform under complex, performance-based, data-centric regimes. The reliance on inte-grated networks, software and data transfer solutions to operate with greater efficiency will increase. Also, digitally powered interconnections between onboard equipment and shore-based systems will further redefine the traditional ship-to-shore interface.
While understandably dominating public conversation, COVID-19 concerns should not obscure some of the important issues that the shipping industry needs to continue to address, such as market uncertainty and unpredictability, which has been exacerbated significantly in recent weeks, as well as the impact of new regulations and ever-changing technologies.
The industry is experiencing several major changes: the impact of regulations and alternate fuels on the carbon journey and the rate of change of technology. These respond to four industry challenges: low-carbon shipping; the speed and scope of digitalization; the growing cyber threat and addressing safety risks introduced by the pace of change. The virus has accelerated this catalyst for change across the industry.
This new paradigm of digitally stimulated development is evidenced by the number of pilot programs we have launched and will continue to add to, in which digital technologies support a variety of marine and offshore business goals. Drawing on our expertise with data science, marine and offshore technologies and digital applications, we are increasingly working with owners, operators, charterers, vendors and academia to jointly begin realizing the true potential of digitalization to enhance asset management, fleet performance, sustainability and crew safety — the kind of collaboration that has made ABS a recognized technology leader in our increasingly digitized and data-driven world. This is the future of classification and ABS is delivering it today.
At the same time, however, the driving forces for success remain the same as ever: a leading position on safety; the vision to navigate constant change based on a core set of values; and the ability to harness knowledge and expertise to leverage ABS' strength and deliver consistent positive performance.

While many organizations discuss planning for a Black Swan event, I would argue that very few could have projected the depth and breadth that the COVID-19 pandemic reach. That said, looking at your organization: How were you best prepared for this event? When the smoke clears and there is a re-turn to normalcy, what areas will you strengthen to prepare for the next event of this magnitude.
ABS has a strong track record of investing for the long term and this has stood us in good stead, particularly in this present situation. Our focus on attracting and retaining great people, creating modern, highly efficient business processes and innovating with digital technologies to deliver powerful new services that drive safety and operational performance gains for the industry, provides a strong foundation. Nothing that has happened changes this approach.
What is clear is that while digital technologies have already permanently altered some of the fundamental realities of the marine and offshore industries, there is still a considerable way to go.
Thanks to advances such as telemedicine, high-speed broadband communications and AI-based technical assistants, vessels and platforms far out at sea, though still off in the distance, are far less isolated than they used to be. Meanwhile, digital technologies are transforming the nature of research and development, accelerating innovation and hastening the arrival of equipment and systems for monitoring, control and communications that help us do our jobs in ways that are more safe, efficient and productive than ever before.
At the same time, however, digital technologies are also transforming the nature of risk. Their seemingly limitless potential to create positive change is accompanied by an equal and opposite potential to generate fresh hazards.
This has given rise to a challenge unprecedented in maritime history — not only are digital sources of risk both intangible and invisible, but the consequences they can conjure range from costly to catastrophic. As a result, safety leadership in this changing world means ensuring technology's potency is tempered by human needs.
The digital revolution brings exciting possibilities for enhancing occupational safety, survey and condition monitoring, and is revolutionizing asset management overall. Balancing today and tomorrow, safe-ty must be grounded in protection of life, property and the natural environment, while focusing on systems thinking, people, cyber security and predictive analysis because every facet of the industry is changing and evolving quickly.
The extent to which companies successfully manage this duality will be the determining factor in their performance in the years to come. This is why ABS will continue to invest in the foundations of our dig-ital future and develop products and services to help the industry and our clients do likewise.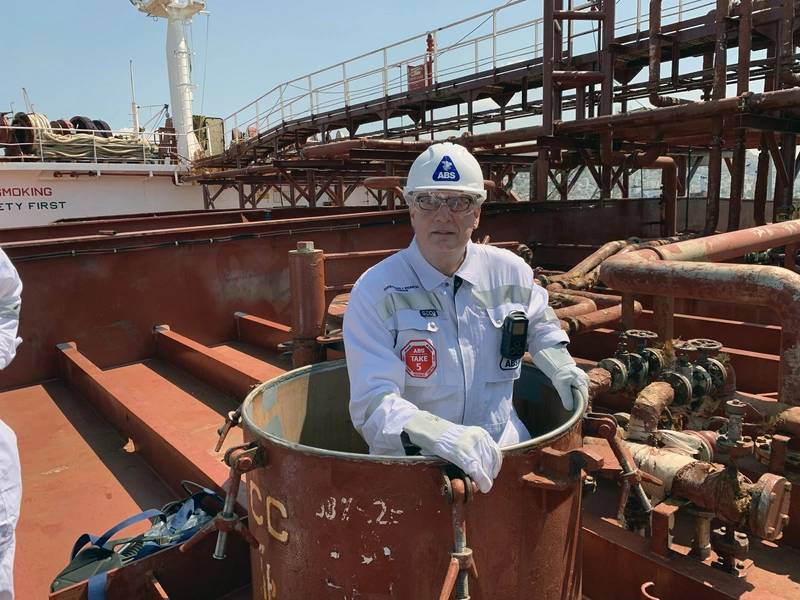 Photo: ABS

• American Bureau of Shipping • artificial intelligence • asset management