Trelleborg Supplies Langkawi Jetty for Upgrade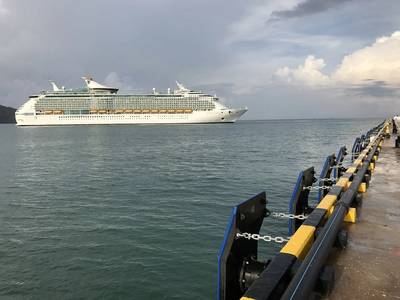 After over a decade of facilitating the successful berthing of visiting cruise ships, Trelleborg's marine and infrastructure operation has replaced its existing fenders, installed in 1997, at Star Cruises Langkawi Jetty, with its high performance Super Cone Fenders (SCN).
Located on the south coast of Langkawi, some 30 kilometers off the mainland coast of north-western Malaysia, the jetty berths approximately 100 vessels per year. Following 15 years of successful operation, Star Cruises turned to Trelleborg yet again to replace its existing fenders enabling the jetty to accommodate ever-increasing cruise vessel sizes.
Trelleborg's SCN are the latest generation of 'cell' fenders, with optimal performance and efficiency. The conical body shape makes the SCN very stable even at large compression angles and provides excellent shear strength. With overload stops the SCN is highly resistant to over-compression.