Timoteo's First Steps on the Bridge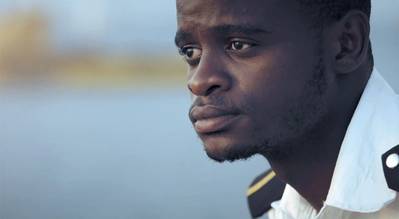 Rising from more than 25 years of civil war starts with education, equipping Angolans not just for their current jobs, but also for the rest of their careers and lives. Meet two Maersk colleagues who are taking part in the rise of their country.
Note: This story originally appears in the Maersk Post.
From the bridge of the Maersk Winner, Dario Timoteo looks out across Luanda's bay as the sun dips towards the Atlantic. He has dreamt of this moment and after many years of study and work, it has become a reality.
It is Timoteo's first time on board the ship he is to work on as a cadet with Maersk Supply Service in Angola, and marks a memorable moment in his life.
"I feel like a successful guy, because when I was young I always wanted to work on a vessel on the sea, and now here I am," says Timoteo, a quietly confident 21-year-old from Luanda. "It was not easy. I had to struggle a lot. I had to be away from my family and the people that I love, but that was how it had to be, because this is my future".
In a country with little seafaring tradition, Maersk is working to enhance the education of workers to ensure they do not just fill a position, but have the skills to perform well and have a foundation on which to build the rest of their careers, both in Angola and beyond. Timoteo is one of those who have benefited.
This is just one of the initiatives funded by Maersk around the world. Investing in education and vocational training is one of the three main focus areas of the Group's Sustainability Strategy 2014-2018 that aims to support long-term growth and future employment in countries where it operates. A Group Sustainability project is underway to develop new ways of supporting education and training.
"We only have two Angolan captains. I'm striving and struggling to perhaps become the third captain in Angola," Timoteo says. "Just being here, I already feel like a captain."
Skilled and trained
Maersk decided to go into Angola more than 15 years ago as it was starting to emerge from civil war and has built its business together with the country's development.
It is now Africa's fifth largest economy and the continent's second largest oil producer after Nigeria. That has underpinned the country's rapid economic development, with annual GDP growth averaging 10 percent since the end of the 27-year civil war in 2002, according to World Bank data.
"We have a backlog of about two generations of Angolans, who need to be tooled and retooled and to get an education so that they can truly enter the world of livelihood and employment," says Samuel Harbor, country director for UNDP.
As is the case in many emerging economies, Angola requires that a certain percentage of the workforce within certain industries be filled by its nationals – in this case, 70 percent over time.
"It's an absolute must that you make sure your youth is skilled and trained, and all this in a way to make sure the country they're from can continue its economic growth," says Lars Reno Jakobsen, Senior Vice President for the Maersk Group.
"Africa is characterized by its youthful population, which in the future can represent a major advantage for the continent," Jakobsen says. "Having been present, as a group, in Africa for more than 100 years and with a stated long-term commitment for the future, we consider it essential to continue investing in the transfer of skills and knowledge here."
Ships in the distance
Growing up among Luanda's sprawling suburbs, many of Timoteo's classmates dreamt of working at sea. His ambition, commitment and desire to learn helped him become one of just 12 cadets selected from a field of nearly 1,000 candidates.
Timoteo applied to Maersk Supply Service and joined the other cadets on a journey of four or more years to become a fully certified officer, and a choice of career paths in the deck or engine departments. He has completed the first one and a half years of the program in Cape Town, including an English language course, and safety and survival training.
"I was studying near the seashore where I could see the big vessels and big swell and I would think, wow, what's it going to be like on the vessel, is it going to be different? While most people work on land, I'll be working on a vessel. It's going to be so different," he says.
It was tough being away from home for so long, but Timoteo made friends with his fellow cadets and quickly became fascinated with his work and learning.
"When I was small and walked along the beaches in Luanda with my mother, I'd see the ships in the distance and wonder if one day I could work on one of those," Timoteo says. "But now that I am here, I see that the dream has come true."
Profile: Maersk in Angola
The Maersk Group employs nearly 1,500 people in Angola, more than 85 percent of whom are locals
Maersk Drilling supplies rigs to oil and gas companies operating offshore
Maersk Oil entered Angola in 2005 and has since made the Chissonga discovery, declared commercial in 2011
Maersk Line has been present in Angola since 1998 to serve importers and exporters with the transport solutions they require, when they require them
Maersk Supply Service provides services to oil and gas installations offshore Angola
Svitzer has a contract to supply towage services to the state-owned Angola LNG plant in Soyo, northern Angola
APM Terminals, as a partner in Sogester, operates port facilities in Luanda and Namibe, in the south of the country
Damco provides forwarding, logistics and supply chain solutions to Angolan importers and exporters
• Africa • Angola • LNG plant