LPG Tanks Arrive at Port of Richards Bay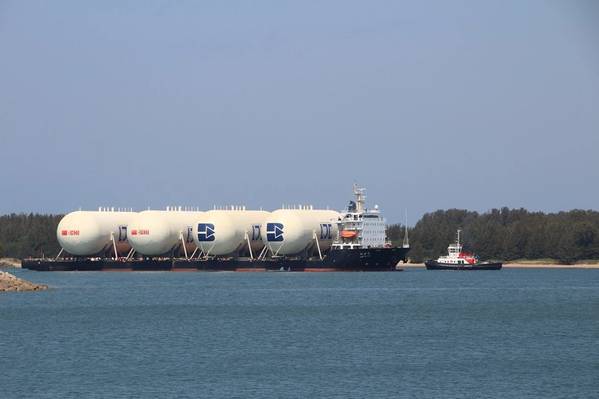 Transnet National Ports Authority's (TNPA) Port of Richards Bay welcomed the arrival of four new 5650-ton liquefied petroleum gas (LPG) storage bullets on Thursday, September 12th on board the vessel XIN LU.

The bullets are for the 22,600-ton capacity mounded LPG facility which is being developed at the port by Bidvest Tank Terminals (BTT), a unit of the Bidvest Group. The terminal will store LPG on behalf of independent LPG specialist Petredec, which ships the fuel from the US and the Middle East.
Construction began in October 2018 and the facility is expected to become operational in 2020, housing the largest storage tanks in the world.
Richards Bay was seen as the most suitable port to handle this capacity. The port is on Petredec's shipping route and in close proximity to the main rail and road logistics routes going inland, particularly as most of the LPG will be used in Gauteng, the Free State and the North West.
TNPA has said it intends using the ports as vehicles not only for storage and distribution, but also for access and transformation to ensure the sustainability of the country's Energy sector.
Transnet is also planning a multi-million dollar liquefied natural gas (LNG) storage and regasification terminal at the Port of Richards Bay and is looking for private sector partners to invest in and operate the facility. The state-owned company recently signed a cost-sharing agreement for a feasibility study with the World Bank's International Finance Corporation (IFC), which has committed USD2 million to the study.