Stena Line AB's Volunteer for Mercy Ships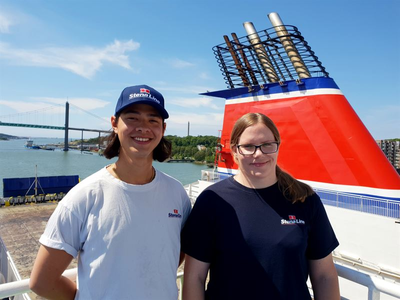 After a successful volunteer program in 2018, two more employees are preparing for a three-month adventure, joining the Mercy Ships hospital ship 'Africa Mercy'. In addition to fundraising and raising awareness for the humanitarian NGO, Stena Line aims to contribute the unique technical and naval competence held by its employees.
Stena Line's able able seamen, Martina Thowsen and Alexander Gustafsson, are joining Mercy Ships' hospital ship "Africa Mercy" as volunteers.
In the next few days two of Stena Line's able seamen, Martina Thowsen and Alexander Gustafsson, will commence their journey in the Las Palmas ship yard where the hospital ship Africa Mercy is scheduled for maintenance before continuing the journey down to the coast of Senegal. Exactly what their specific tasks will be depends on the ship's needs at that time, but they are up for the challenge.
There are more than 200 different roles required to run the Africa Mercy and even though medical care is an enormous part of it, other professions are needed as well, such as carpenters, mechanics, security officers and chefs to mention just a few. Onboard there will be around 50 different nationalities sharing their knowledge and onboard experiences.
The volunteer program is part of Stena Line's sustainability strategy, which bridges over all three dimensions of sustainability; economical, ecological and social. The program was launched in 2017 and employees from all eight of the shipping company's regions are encouraged to apply. In accordance with Mercy Ship´s values, all volunteers work for free. However, Stena Line guarantees leave of absence and provides overhead expenses and all necessary vaccinations.