Sonardyne at 50th Marine Measurement Forum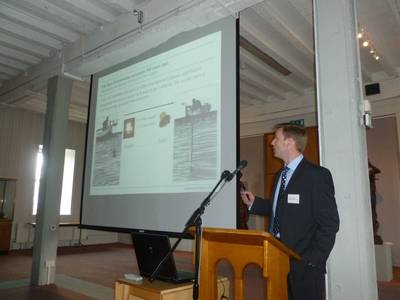 This month saw the 50th Marine Measurement Forum (MMF) take place at Portsmouth Historic Dockyard on Tuesday 12th June where Sonardyne International Ltd's Engineering Director, Simon Partridge, was invited to present.

Held within the prestigious Princess Royal Gallery at the National Museum of the Royal Navy, attendees also heard talks by other industry experts on the theme of 'Measuring in the marine environment.'

The MMF is a series of one-day, non-profit making events that provide opportunities for the informal exchange of ideas, knowledge, techniques and developments across an extensive range of marine scientific measurement activities. Attendees typically include scientists, surveyors, engineers and business people from a variety of organisations including research centres, survey companies, oil companies, consultants and port authorities.

At the event, Simon Partridge gave a presentation titled 'Underwater acoustics positioning and communications, past, present and a glimpse into the future', looking at the development of the available technologies across the years. "MMF is a fantastic event and a great platform for sharing knowledge and information with other industry experts," commented Simon. "Being invited to speak was an honour. It provided the opportunity to briefly look back at the birth of subsea acoustics 200 years ago, to see how this has evolved through to our current 6G product range offering precision, reliability and speed providing significant operational savings, and to look at the challenges going forward."

"As a milestone event, MMF 50 was an unqualified success with many notable presentations reflecting on the marine measurement story over the last 30+ years," said Roger Scrivens, MMF Steering Group member. "The audience was intrigued to hear several impressive speakers, encased in wonderful surroundings, offering their opinions as to where technology will take us over the next 30 years. A most enjoyable event."


• MMF Steering Group • Simon Partridge • Sonardyne International Ltd.