Shoreham Port Welcomes Sea Cadets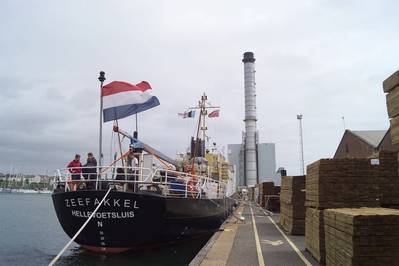 Sea Cadets from the Netherlands and Belgium recently enjoyed a visit to Shoreham Port while on a celebratory trip to the South Coast of England. Travelling aboard the TS Zeefakkel, the party arrived at the Port having visited Southend-On-Sea and the Isle of Wight during their 2-week round trip.
The group's visit to the UK was organized in celebration of the 40th anniversary of the founding of the Zeekadetkorps (Sea Cadets Corps) in the Dutch Town of Hellevoetsluis, located to the south of Rotterdam. Cadets from Hellevoetsluis were joined by Cadets from the Belgian city of Leuven for the celebratory trip to the UK.
Much like their British counterparts, the Dutch and Belgian Sea Cadets Corps are registered youth charities that specialize in teaching young people ages 11-17 years old marine skills such as the core activities of sailing, rowing and navigation. The group's visit to the UK was organized by Chris dé Blocq van Kuffeler, Liaison Officer at both the British and Dutch Sea Cadet organizations as well as secretary of the Bideford Sea Cadets.
While visiting Shoreham, the group met with Hove and Adur Sea Cadets, who are stationed at Lizard Boating Station near Maxwell Wharf at Shoreham Port, for an evening parade.
The ship Zeefakkel, whose name translates to 'sea torch', was originally commissioned in the 1950s by the Royal Netherlands Navy. Previously used to carry out hydrographical studies in the North Sea and as a technical school for training nautical officers, the vessel was later bought by Hellevoetsluis Sea Cadets Corps in 2003 and received a major refit following a fire in 2011.