Big Box Segment Carries Most US Loads Say IANA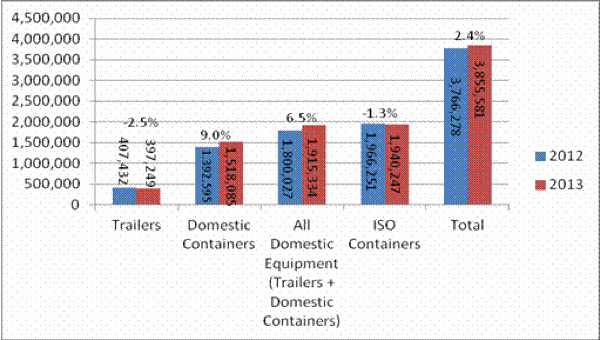 Domestic container volume continued its steady performance in the second quarter of 2013 with 9 percent year-over-year gains, largely attributable to a strong big box segment, with total intermodal traffic rising by 2.4 percent for the quarter, reports industry trade association IANA.
International volume was unable to build on its solid Q1 growth, falling 1.3 percent in Q2 after posting 3 percent gains in Q1. This decline can be attributed to surprisingly weak shipments in June, with loads falling 6 percent from a year ago. It is unclear if the June trail off is an indicator of more to come or if the 6 percent dip is an outlier.

Intermodal trailer volumes declined 2.5 percent when compared to 2012's Q2, but this loss was less than half of the decrease in loads experienced in Q1.

"Domestic container volume was the foundation of intermodal growth in both the second quarter and year to date," said Joni Casey, President and CEO of IANA. "Despite some segments slowing in Q2, the Market Trends and Statistics data confirm the industry's underlying momentum."

Intermodal marketing company (IMC) volume slowed and intermodal loads ended up gaining only 1.1 percent, as opposed to 2.2 percent in Q1. However, while weakening imports and related transloads may have contributed to Q2's performance, stronger gains in highway volume helped offset the slower growth in intermodal business.

The Northeast United States posted a gain of 3 percent in outbound intermodal loads while inbound volume kept pace with a 4 percent increase from Q2 2012. The 3 percent gain in total Northeast shipments was slightly better than the 2.4 percent industry average and the region's share of intermodal traffic remained steady at 10 percent.

Regional traffic in the Southeast United States grew 8.1 percent compared to Q2 2012, with domestic container volume leading the way up 12.4 percent, surpassing the industry average of 9 percent growth. Southeast international intermodal also bested industry statistics with a 6.7 percent gain compared to a 1.3 percent drop nationwide.

Intermodal Market Trends & Statistics is published quarterly by IANA and is available on a subscription and individual copy basis. Members of the press may request a sample copy of the Q2 2013 Intermodal Market Trends & Statistics from Tara Mullen at [email protected]. The report features detailed analyses and reproducible graphical representations of Q2 2013 results.