IMO SecGen Receives ASRY Donation at Bahrain Event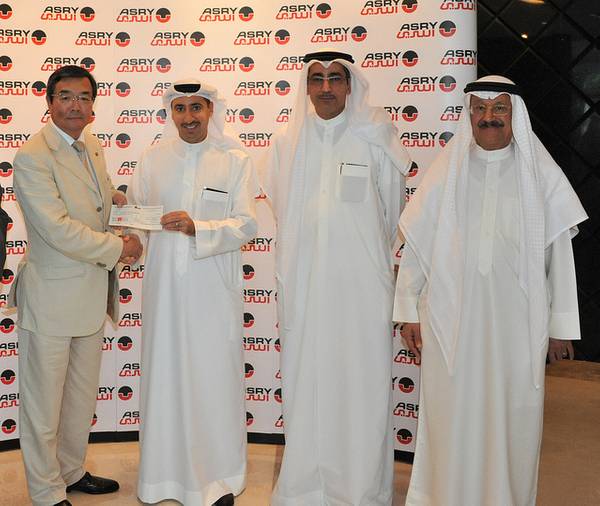 Following Bahrain's 2012 IMO World Maritime Day Parallel Event, Mr. Sekimizu received US$50,000, from ASRY towards IMO's maritime security activities.

The cheque from local shipbuilding and repairers ASRY was presented by Daij Bin Salman Al Khalifa, Chairman of ASRY, in the presence of Hassan Ali AlMajed, Chief of the Port and Maritime Authority, Ministry of Transportation. It was requested that the fund should be used for IMO's projects addressing piracy off the coast of Somalia and in the Indian Ocean.

Mr. Sekimizu, IMO Secretary-General, expressed his deep appreciation for the donation made by ASRY, particularly in view of the current difficult financial situation in the shipping, shipbuilding and ship repairing industries. He confirmed the donated funds would be used for the capacity-building projects under the Code of Conduct concerning the Repression of Piracy and Armed Robbery against Ships in the Western Indian Ocean and the Gulf of Aden (the Djibouti Code of Conduct).

Mr. Sekimizu expressed his hope that IMO would receive further contributions, not only from the maritime industries but also from industries other than shipping and shipbuilding, to reflect the fact that the world economy as a whole benefits from the seamless and reliable international maritime transportation system provided by shipping, at a very low cost.

He stated that the protection of shipping lanes is vital for the world economy as a wholea, and that all industries should be aware of the current situation with regard to piracy and should contribute to IMO efforts to combat it. Of even greater importance, he said, is the need to protect hundreds of thousands of seafarers who navigate piracy infested waters as part of their daily working lives.