Rotterdam Port Report Record Month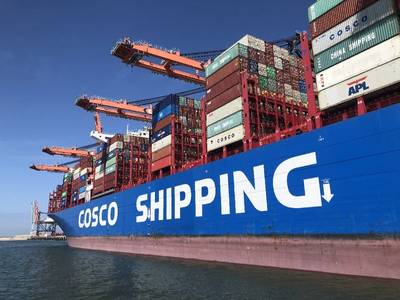 With 13.6 million tonnes of container freight handled, April of this year was the best month ever for the Port of Rotterdam. The previous record month was August 2018 (13.2 million tonnes)

Measured in TEU, the standard unit for containers, April 2019 was the second-best month ever, with 1.3 million TEU, just a fraction lower than the record month of August 2018.

Rotterdam has expanded to become Europe's largest container port, partly because of its excellent depth, Europe's largest sea port said in a press release.

The Port of Rotterdam Authority is participating in the 2019 Transport & Logistics trade fair in Munich from 4 to 7 June. Digital transformation of port and logistics will be an important 'selling point' there for the Port of Rotterdam Authority.

"We want to create a global network of smart connected ports. This will increase efficiency in global trade lanes, lower costs and reduce CO2 emissions," it said.

'Container 42' is a metaphor for this digital transformation, which is why it is a special attraction this year at Transport & Logistics Munich. 'Container 42' is the hyperintelligent container that started its two year data collection journey around the world in Rotterdam on 24 May, with Munich as first stopover.

The container, equipped with sensors and communications technology, measures vibration, gradient, position, sound, air pollution, humidity and temperature during the journey. The container is also equipped with solar panels, to see how much energy a container can generate during a journey on a container ship, train or truck.