Rickmers Sells Entire Containership Fleet to Navios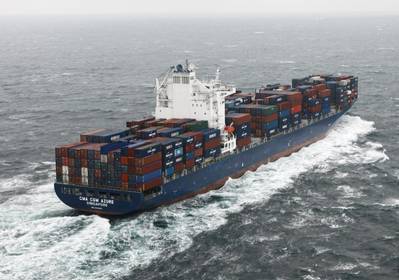 Owner and operator of dry bulk and container vessels Navios Maritime Partners L.P. said it has reached an agreement to acquire Rickmers Maritime's entire containership fleet.

The deal, worth about $113 million, will see Navios Partners acquire 14 container vessels from Rickmers Maritime though a wholly owned subsidiary, Navios Partners Containers Inc.

Three of the container vessels are 3,450 TEU, and 11 are 4,250 TEU, combining for a total 57,100 TEU. The average age is 9.5 years.

Angeliki Frangou, Chairman and Chief Executive Officer of Navios Partners, said, "We anticipate acquiring five 4,250 TEU vessels on May 15, 2017. These vessels are employed on charters that have staggered expirations in 2018 and early 2019 at a net daily charter rate of $26,850."

Frangou continued, "Our operating platform was attractive to [Rickmers Maritime] and its lending banks because of our disciplined technical and commercial management and favorable operating costs. This acquisition demonstrates our ability to source proprietary deals, and we are continuing to seek exposure to the container sector."

The acquisition, still subject to a number of conditions, is being financed through a $20 million equity investment by Navios Partners and a secured loan facility under discussion.

In addition, a third party has an option to acquire up to 25 percent of the equity in Navios Partners Containers Inc., based on allocated cost.
Name / TEU / Yard / Built
Initial Fleet Acquisition
MOL Dominance / 4,250 / Dalian, China / 2008
MOL Dedication / 4,250 / Dalian, China / 2008
MOL Delight / 4,250 / Dalian, China / 2008
MOL Destiny / 4,250 / Dalian, China / 2009
MOL Devotion / 4,250 / Dalian, China / 2009
Subsequent Fleet
Vicki Rickmers / 4,250 / Dalian, China / 2007
Maja Rickmers / 4,250 / Dalian, China / 2007
CMA CGM Azure / 4,250 / Dalian, China / 2007
Laranna Rickmers / 4,250 / Dalian, China / 2007
Sabine Rickmers / 4,250 / Dalian, China / 2007
Erwin Rickmers / 4,250 / Dalian, China / 2007
Henry Rickmers / 3,450 / Hyundai, SK / 2006
Richard Rickmers / 3,450 / Hyundai, SK / 2006
Moni Rickmers / 3,450 / Hyundai, SK / 2007
• Navios Maritime Partners L.P. • Navios Partners • owned subsidiary