ABS Plots Course to Low Carbon Shipping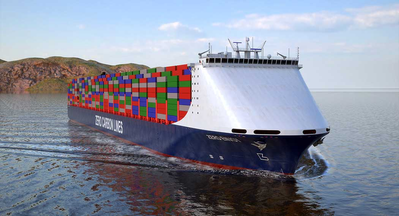 ABS has launched its Low Carbon Shipping Outlook to help the maritime sector evaluate potential pathways to low carbon shipping.
The Outlook defines ship technologies, operational efficiencies and alternative fuels and energy sources needed to reach 2030 and 2050 targets, noting specifically:
2030 targets can be met through operational measures and efficiencies driven by connectivity and data analytics and energy efficient designs.
Fuels are in focus to get to 2050. The conceptual designs confirm that the fuel technology today does not meet the 2050 demands.
To fully understand what it will take to adopt alternative fuels globally, we can compare to LNG as fuel. It has taken 10 years for LNG bunkering infrastructure to develop and supply less than 1% of the global fleet. Other alternative fuels will face similar infrastructure development, regulatory and supply chain challenges.



"Despite all the noise and confusion about IMO 2020, the disruption from the global sulphur cap is likely to be dwarfed by what comes after it. The greatest challenge of our generation - and the next - will be the decarbonization of the shipping industry," said Christopher J. Wiernicki, ABS Chairman, President and CEO. "That's why ABS has published this Outlook to inform the shipping industry as it journeys into the unknown waters of the 2030/2050 emissions challenge. It is designed to help bring into focus the numerous issues surrounding the decarbonization movement as it evolves from today's ambitions to tomorrow's reality."

To assess the potential of the main operational options available to shipping, ABS commissioned a study from Maritime Strategies International (MSI) to analyze the potential impact on the industry's carbon footprint. ABS also worked with the Herbert Engineering Corporation to specify design requirements for two concept containerships which, while too advanced to be built today, shine a light on the gap between state-of-the-art technology and the demands of the 2050 GHG targets.

"The transition to a low-carbon and clean-emissions future is challenging the industry to find solutions that are at once commercially viable, technically feasible and safe. Since shipping is already an efficient mode of transport and significant reductions in fuel consumption have been achieved recently from improvements in design and operations, it will be difficult to find further meaningful GHG-related gains solely by using current technology," said Gurinder Singh, ABS Director of Sustainability. "The reduction targets for 2030 are challenging but, as they are a measure of carbon intensity, they allow for trade growth. However, any measures taken to meet those goals must also consider 2050 targets if they are to account for the growth in trade and transportation demand while reducing GHG emissions. This will require new technologies."







• Christopher J. Wiernicki • energy • energy sources